James May: I ordered a Ferrari 458 Speciale — all I need now is a job to pay for it
"Hashtag firstworldproblem"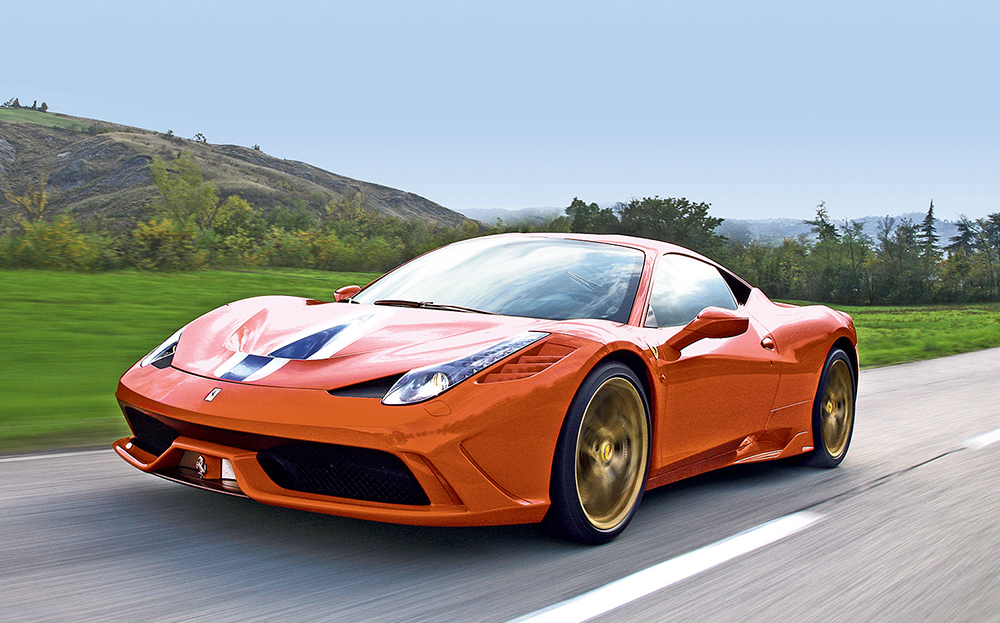 NOBODY YET knows what is going to happen in the future of Top Gear or its three former presenters. That is the honest truth, despite what you may have read elsewhere. No one has even arrived at a definitive pronunciation of "fracas" yet, so what chance is there that we'd have rescued our careers?
The three of us may be reunited on screen, we may go our separate ways, or we may disappear from the television altogether and each assume a place, alone, in the corner of a pub where any unsuspecting passing drinker who strays into an exclusion zone studiously avoided by the locals will be subjected to a predictable "I used to be on TV" routine.
---
Browse the used used Ferrari 458 cars for sale at driving.co.uk
---
Whatever we do, it will be scrutinised ruthlessly. Our fans feel betrayed and believe a spell has been broken. Our foes are rejoicing at the banality of our demise. If there's a hint of mediocrity in any future endeavour, both parties will feel vindicated. Even if Top Gear is revived in a new format with new hosts and isn't as successful as it once was, that'll be our fault. And if it's better, then we were overdue for retirement anyway.
I accept that this is a bit of a hashtag firstworldproblem, but I'm finding it quite difficult to handle. Humility is the key, I think, to coming out of this well.
I therefore decided that driving around in my bright yellow Ferrari 458 Italia was no longer really acceptable. That would give out entirely the wrong message. I don't want to be mistaken for the scion of a Saudi oil dynasty when in fact I'm an unemployed television presenter trying to keep a low profile. So I thought I'd better have a dark blue one instead.
I really have ordered a new Ferrari, which I accept is a strange thing for an unemployed person to do
OK, that was an unnecessarily lengthy run-up to a fairly feeble punchline, so maybe I shouldn't be surprised it's all over. Anyway, I really have ordered a new Ferrari, which I accept is a strange thing for an unemployed person to do. It may never have happened before, in fact. So here's how it really came about.
There we were, all three of us, on the brink of a new three-year contract to make Top Gear, after which we would definitely chuck it in with dignity and hand the reins to a new generation, assuming we were still alive. There were a few details to resolve about time frames and other mundane stuff, but the groaning draft version of this document was actually sitting on my desk.
This was a great privilege, and a once-in-a-lifetime event; an invitation to continue presenting the world's biggest TV show for — let's not be shy — a handsome salary. Although I am often racked with Protestant self-loathing over this sort of thing, I decided to reward myself with a new motor from Maranello.
I'm already on my second one, but they've both been second-hand. This, again, was an opportunity that was only going to come along once; the chance not only to take delivery of a freshly minted and unfarted-in Ferrari, but to revel in the process of specifying it. If I moved quickly and paid a deposit, I could be one of the first people in Britain to own the new 488 GTB, the future, turbocharged direction of the mid-engined V8 Ferrari.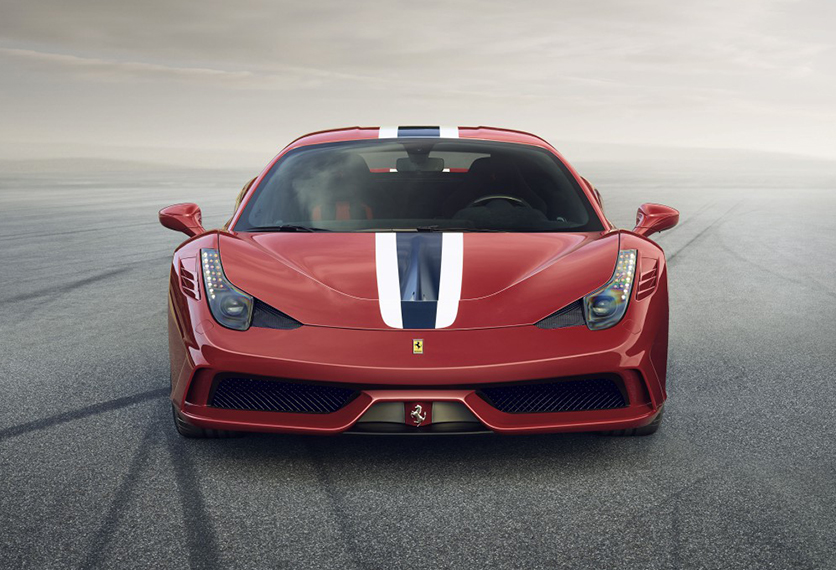 But then I had a better idea. Why not the 458 Speciale, the more powerful, more focused and altogether more nerdy edition of the standard 458 that Ferrari likes to claim is actually a different model in its own right? Then I would own the last normally aspirated mid-engined V8 Ferrari. It's a car I've already driven extensively — and love.
There was even a certain amount of fiscal sense in this (hashtag still applies, see above). The top-shelf editions of the past two V8 Fezzas, the 360 Challenge Stradale and F430 Scuderia, are actually appreciating impressively in value. At £208,090 before options, the 458 Speciale is expensive but, like every hopeful classic car owner in the land, I could claim it was better than money in the bank.
Smoke poured from the back of my man-maths calculator as I made this case to Woman, whose arms remained resolutely folded throughout; as well they might because our house needs a new roof. I'm pleased to say that common sense prevailed — on her part, I mean — but only because I didn't admit to my plan for gold wheels.
I rang my dealer —and I use that expression deliberately, because we are talking about a drug of sorts here. No chance, because the order books for the 458 Speciale were now closed. But then he rang the factory, which agreed to make one more — for me. Imagine that. I would own the last example of the last normally aspirated mid-engined V8 Ferrari. It was better than finding a Canaletto at a car boot sale. Yes, please, I said breathlessly.
Off I went, then, to help make what would have been the last film of the recently truncated Top Gear series, a cinematic marvel on the Yorkshire Moors about the pure pleasure of driving in three wildly different cars: a Rolls-Royce Wraith, Ford Fiesta ST and Porsche 911 Targa. Life seemed marvellous.
And then the demons stormed the flimsy steel of "Fracasgate" and everything in the future shattered like the mishandled Christmas bauble that the future turns out to be. It all evaporated, exactly as the poet Thomas Gray warned us: "The boast of heraldry, the pomp of pow'r, and all that beauty, all that wealth e'er gave" — along with the unsigned contract on my desk and unspoken permission to use the Concorde room at Heathrow terminal 5. It had all gone. All, that is, except the order for a 458 Speciale lodged in Ferrari's factory system, with only the final details to be confirmed. Oh cock, as I used to say when I was on telly.
I noticed the stripe costs almost exactly the same as a basic Dacia Sandero. Maybe I didn't need the stripe. "You 'ave to 'ave thee stripe-ah," said Anna in a way that made my knees crumple
Things began to move forwards at a pace appropriate to the Cavallino Rampante — the Prancing Horse. An invitation to visit the factory and choose the specification arrived, so I found myself at Heathrow (but not in the Concorde lounge) bound for Maranello and an appointment with Anna in the Ferrari Atelier — a room that is a real-life version of those car configurators we all like to fool around with, the main difference being that you need actual money to play.
A car of the type you have ordered is parked in the middle of the space. Along one wall wheels of different styles and colours are displayed. Along another are the seat options to sit in. Books of carpet and Alcantara swatches are artfully littered around the top of an exquisite mahogany table. Multicoloured cataracts of beautiful hide cascade down walls. Painted metal panels stand in serried ranks for your inspection.
At one end is a huge screen displaying a more sophisticated version of that online configurator so every possible combination can be displayed in virtual, door-openable and sit-inable form. It's an intoxicating experience. I was in there for hours, troubled only by the knowledge I couldn't pay for any of it.
I think they may have smelt a rat when I started talking about my vision of a "tastefully austere 458 Speciale". And then another when we arrived at the colour choices for that stripe that runs over the bonnet and roof. My dark-blue- with-gold-wheels scheme looked good with a two-tone grey one, but then I noticed the stripe costs almost exactly the same as a basic Dacia Sandero.
Maybe I didn't need the stripe. "You 'ave to 'ave thee stripe-ah," said Anna in a way that made my knees crumple like the bonnet of a shunted lightweight Jaguar E-type. I had the stripe. The sat nav? Yes. Reversing camera? Might as well. Nose-lift system for clearing speed humps, extra Alcantara trim on the dash, floor mats (about £1m)? Yes, yes, yes. When you haven't even made provision for the colour-coded wheel centres, it's all a bit academic.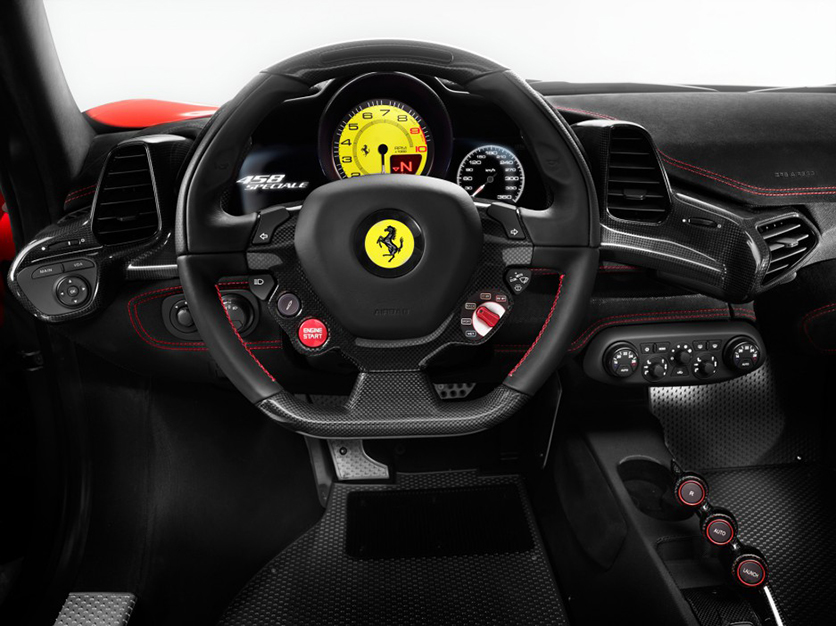 I left with a PDF of my completed car. It is truly a thing of loveliness. I lie in bed alternately staring in wonderment at the pictures on my iPad and trembling in the lonely darkness over the massive figure I noticed at the bottom of the file. By the time you read this my 458 will have begun its inexorable creep through the Ferrari production system.
The foundry is charging its furnaces to cast the engine block and cylinder heads. Sewing machines whirr, screwdrivers and spanners twirl. It's a beautiful process and a slow one — months, rather than the 90 hours it takes to build a Mini — because this is a genuinely hand-built car. But it will get to the end, and then I'll have to pay for it.
But look: this car really is an investment. I know that's the most abused expression in car retailing, but for once it's actually true. I could resell it immediately and get my money back, maybe even more. There's a cash-flow issue, but this is not a financial disaster.
But then again, why would I do that? This really is an opportunity that was only going to come along once, even when it wasn't actually meant to. I'm not making an investment, I'm buying a car I truly adore and that gives me a small tingling sensation whenever I think about it. It's being built now, for me personally, to my precise specification, by people who love their work. It will be my privilege to drive around in it.
Hang on a minute. Unemployed middle-aged man from Hammersmith orders the last-ever Ferrari 458 Speciale, in dark blue. What on earth was I thinking of? Just moments before I signed the order form and committed myself totally and irreversibly, I had a sudden change of heart. I ordered it in bright orange.
Ferrari 458 Speciale specifications
Price: £208,090
Engine: 3497cc, V8
Power: 597bhp @ 9000rpm
Torque: 398lb ft @ 6000rpm
Transmission: 7-speed automatic
Performance: 0-62mph in 3.0sec
Top speed: 202mph
Fuel: 23.9mpg (combined)
CO2: 275g/km
Road tax band: M (£1,100 for first year; £505 thereafter)
Release date: Sold out
---
Browse the used used Ferrari 458 cars for sale at driving.co.uk
---