It's 21! Top Gear returns to our tellies
The boys are back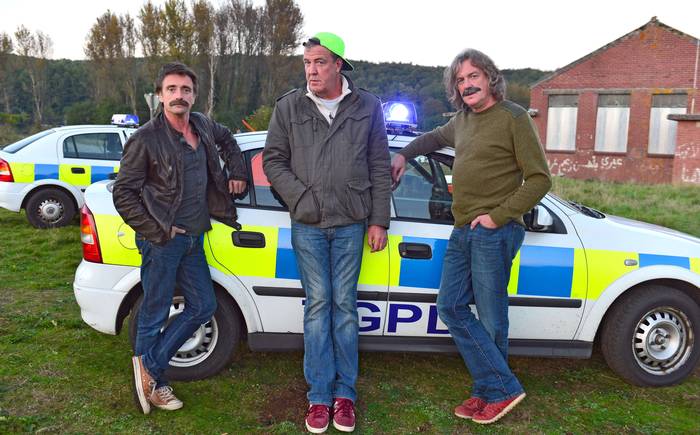 As the 21st series of Top Gear begins, Nick Rufford finds much more than false moustaches and hot-hatch supermarket sweeps to appeal to the child in us all
IS THERE, inside every man's head, a nine-year-old boy who never grows up? If so, it has eluded surgeons, but not the makers of Top Gear. The show has built up a worldwide audience of 350m with its formula of puerile humour, shouting, falling over and setting caravans on fire.
As it enters its 21st series at 8 o'clock tonight on BBC2, audiences will be treated to the sight of three men putting on false moustaches, driving a tank through a building and skidding round a supermarket demolishing shelves. Is it all a little unseemly, given that Jeremy Clarkson, 53, has a bald patch big enough to be seen from space and needs reading glasses as powerful as the Hubble telescope (according to his co-presenters), while James May, 51, wears paisley shirts outside his trousers to disguise his midriff and Richard Hammond, 44, has resorted to cosmetic attempts to conceal middle age?
Yes, it is unseemly, but it appeals to the small boy in most men — and that's what matters, says Andy Wilman, the executive producer, who has been at the helm of Top Gear for all 21 series.
"Quite a few viewers often complain that we don't review real-world, everyday cars that people actually drive. Have we matured? Sadly, no. In show two [for example], Jeremy drives the new £900,000 McLaren P1. Bottom line: almost everything we filmed was aimed at people with a mental age of nine."
It's a long way from the programme's origins when Top Gear was a "serious" magazine programme, attempting to enlighten viewers about the pluses and minuses of cars they might buy. Launched in 1977, it was first hosted by the former newsreader Angela Rippon, and subsequent presenters included Noel Edmonds and William Woollard.
In those days, according to Wilman, motoring journalists could claim to be a kind of fourth emergency service, whose advice could mean the difference between life and death. Cars were shoddily assembled by workshy militants in the Midlands, angry Bolsheviks in France or, worse still, Italians.
The advice of motoring journalists was essential to warn you about cars that could collapse mid-corner because half the components were missing, or could simply disintegrate because of rust. Those days are gone. Italian cars don't oxidise any more, Skoda jokes fall flat and in consumer satisfaction surveys even the worst cars score two-thirds or more. "We used to write that the Princess was tricky to drive because Red Robbo had forgotten to fit a steering wheel. Now we complain that the steering on a Mégane is 'slightly vague'," says Wilman.
So Top Gear reinvented itself in 2002, not as a programme about cars but as a programme about men talking about cars. The difference was subtle but crucial. Other car shows, some of which stuck to the belief that what viewers wanted was detailed information on engine displacement, torque and warranties, found themselves parked on obscure satellite channels or on the scrapheap.
The list of casualties goes on and on like the cast of Ben-Hur and includes well-made shows such as Vroom Vroom, dropped from Sky; Pulling Power, axed from ITV; Used Car Roadshow, discontinued on Men & Motors and ITV4; and Deals on Wheels, scrapped by Channel 4.
Top Gear has spluttered on, slowly gathering viewers not just in the UK but around the world. It has become the main moneyspinner for BBC Worldwide, the Beeb's commercial arm, and dominates searches on iPlayer. So much so that a new satellite channel, BBC Brit, will soon allow men around the world to slob in front of the gogglebox watching Clarkson, May and Hammond shout at each other.
The three presenters may be older but they haven't matured, and their creakiness makes the rigours they are put through even funnier.
Wilman says: "Given that Jeremy and James have both passed 50 and Richard has finally admitted that 39 candles is fooling no one, you might think [we'd] go a little easier on them.
"All I'd say, then, is watch out for the latest road trip. No quarter is being given — or asked for. Yet."
Series preview by Andy Wilman, producer
Nobody tells us anything round here, but apparently BBC Worldwide is "revving up" to make Top Gear the big cheese of a new global channel aimed at manly chaps everywhere. It's a good job we've got some new content — seven freshly baked programmes, all made on the premises. What's more, I'm actually looking forward to watching them go out on the telly. The last series was made at a hell of a lick and, if I'm honest, was a bit patchy. This one, though — this one smells strong.
Eighties hot hatches
We kick off the series with an argument. The kids who run the Top Gear office think 1980s hot hatches must have been rubbish compared with a modern Seat or Fiesta ST. Jeremy, James and Richard, respectively 53, 51 and whatever he's pretending this week, strongly beg to differ. So confident are they that they buy three sub-£800 hot hatches from the Duran Duran era — a VW Golf Mk 2, a Ford Fiesta XR2 and a Vauxhall Nova SRi — and dare the young producers to find some challenges. What unfolds is a cracking mixture of laughter and lowbrow. To celebrate the lost 1980s art of ram raiding, there is a timed rally stage around supermarket aisles. In homage to all those early Police Stop Youth Round a Housing Estate TV shows, there is a chase involving tanks, moustaches and Jerry Bruckheimer explosions that will knock the ornaments off your telly. And yet there is also a touching yearning for the days before hi-vis jackets. I believe many dads, mullets long gone, will be wiping away a little tear.
Burma
Every series is the better for one of our Christmas specials, and this year we're travelling across one of the great enigmatic countries of the modern age — Burma. Getting permission to film there took an age, so long in fact that this particular Christmas special is going out in March, but I hope you agree it's worth the wait. Given that the three of them have tried most forms of vehicle on these trips, from 4x4s to Lancias to motorbikes, we thought we'd ring the changes by challenging them to be Burmese lorry drivers. And so the boys gather in Rangoon with three trucks bought off the internet, knowing that they're old (but not how old), that they have engines of some sort, and that somewhere along the way Richard's seat has been replaced with a church pew.
They set off on a surreal 1,000-mile journey that is easily the toughest yet. In fact when they enter the usually forbidden northern Shan state, it descends into Top Apocalypse Now Gear. We were the first western TV crew to be allowed in there, and I can't help feeling sorry for the locals that instead of meeting Sir David Attenborough or Joanna Lumley, they got our three.
Now, normally at the end of these road trips, the finish line is the cue for the credits to roll, but not this time, because when they reach their destination, Richard, James and Jeremy have to complete a specially tough task. Put all that together and it's no surprise that this special is, like last year's Africa trip, going to be broadcast in two parts.
World's dullest road trip
Yeah, that's a title most petrolheads don't want to read in the TV listings, but that's what you're getting. In truth, though, I'd advise you stick with this little adventure, because we pride ourselves on the fact that we can make boring entertaining. The cars are the new breed of one-litre hatchbacks — James finally gets to consummate his love affair with the Dacia Sandero — and the country they have to cross is Ukraine. Sadly, nobody told them that not only is it enormous, but it's also a sort of Soviet Nebraska whose landscape never changes. True, the place is peppered with nuclear submarine bases and Crimean War hotspots, but that can't keep our heroes amused for long, so they have to entertain themselves by learning in-car skills such as embroidery and magic. And just when they think the hardship's over, they're given a specific amount of petrol and told to make it to the border. Along the way, though, there's quite an obstacle — Chernobyl.
And the rest …
Besides the big monster films, there is an assortment of hard and soft centres to choose from in the lower tier of the chocolate box. In Italy, for example, Richard sets off to have a nice time finding out what the new Alfa Romeo 4C is all about, and then has his party gatecrashed by Jeremy who is eager to give him a race the length of Lake Como.
James is in Afghanistan, with tin hat on, looking at the operation to repatriate all Britain's military vehicles — the biggest such movement since the Second World War.
There are some landmark cars too. Jeremy gets his first experience of the fearsome Eau Rouge corner on Belgium's Spa circuit, scarily for him in McLaren's 900bhp P1. Is it any good? Well, in 40 years I've never seen Jeremy struggle for words, but this time . . .
Richard, meanwhile, is in Dubai trying out our other hypercar, the Porsche 918. Also, Mercedes has brought out a six-wheeled version of its AMG G 63, and you have two choices. You can either wait till the next Die Hard comes out to see it in action, or watch Richard take it (via a waterpark full of holiday-makers) across the incredible Empty Quarter, 250,000 square miles of sand dunes on the Arabian peninsula.
So there we are: Call the Midwife or us. You know which button to press.