Jeremy Clarkson on The Grand Tour Series 3's globetrotting high jinks
Buckle up world, we're ready to rumble again
---
Published 17 January 2019
TO MAKE the new Amazon Prime series of The Grand Tour we went to China, Sweden, Arizona, France, Doncaster, Finland, Detroit, Mongolia, Spain, Azerbaijan, Colombia, Georgia, Doha and Scotland.
China was the worst. It was a nightmare. The location was Chongqing, which, with more than 30m people — if you count everyone in the metropolitan area, — is the biggest city in the world. And don't feel embarrassed: I hadn't heard of it either.
It's known as the furnace of China because in the summer the average daytime temperature is well above 40C and the sky is a constant, dripping-wet shade of grey. It's like being in a hot bath and, hilariously, the air-con in James May's crummy old Mercedes S-class was broken. This made him very cantankerous.
Richard Hammond was also cantankerous because he thinks it's weird to eat fish. So he was completely flummoxed by the local dish, which is a cow's tendon cooked at the table in a bucket of chilli-infused napalm. And lived for eight days on nothing but rice.
I was also cantankerous because in Mandarin there's only one word and it's no. After six months you finally get a permit to film on one side of the road but when you arrive it's obvious that you should actually film on the other. It makes no difference to anyone. Nobody would care. But when you ask for permission the answer is no. God knows how they have a problem with overpopulation.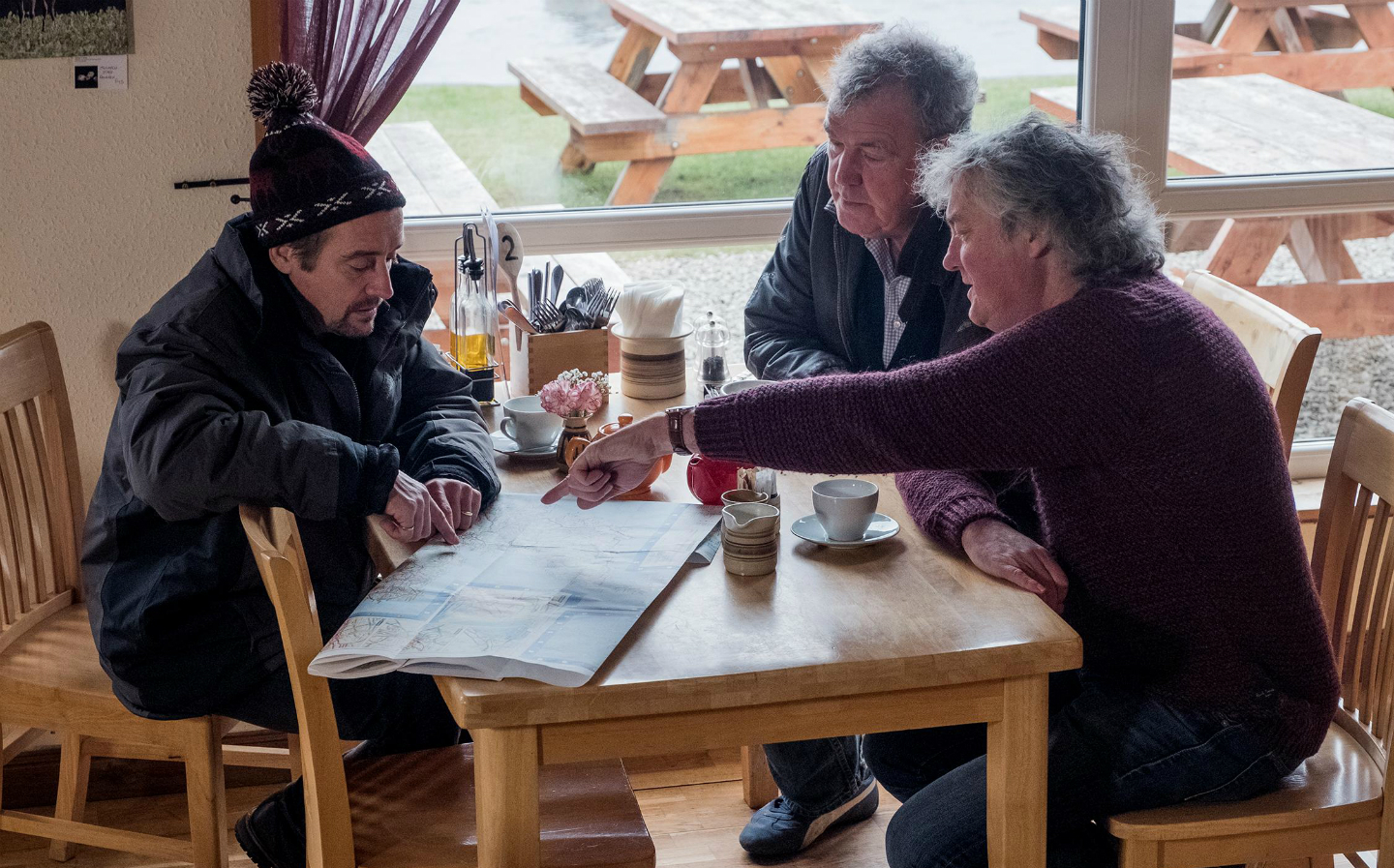 And there's no point shouting because the Chinese regard us in the same way that we regard slightly fat insects. Three days in and I was tearing my hair out.
I'd love to say that despite the issues we came back with a gem of a film. A masterpiece. But the truth is it's a turd. We've polished it, of course, till it gleams and sparkles with handsome panache, and it is fun watching May literally melting. But it's still a turd.
Detroit is the opposite. It's bloody great. All of us tear around that post-apocalyptic backdrop in three muscle cars. And muscle cars, as I say in the film, are like power-rock ballads. If someone asks if you like Journey's Don't Stop Believin', you'll huff and puff and say, "No, of course not." But if you are driving alone on your own and it comes on the radio, you will turn it up and sing along. Yes, you will. Don't argue.
So it goes with the cars we were driving: a 700bhp-plus Ford Mustang RTR, a 840bhp Dodge Challenger SRT Demon and the 1,000bhp Hennessey Exorcist Camaro. Stupid cars. Stupid noises. And stupid names. I mean, RTR stands for "Ready to Rock", and how infantile is that?
Very, and I don't care. I loved all those cars and I loved racing them in the derelict factories. It's one of the best films we've done in years. And one of the most enjoyable to make. Detroit is coming back. You can find a restaurant that serves dumplings in a goose broth right next door to a blood-spattered crime scene. And you can buy a four-bedroom house for £1,800. I know, because we did.
The Chinese regard us in the same way that we regard slightly fat insects
And that was one of the lighter moments. In Colombia a spectacled bear ate my headlamp; in Arizona I was trapped on the roof of a moving and driverless recreational vehicle; in France I chased down a De Tomaso Pantera GTS — and all that's before we get to the track stuff and the McLaren Senna and the Alpina, and the Jaguar XE SV Project 8 and the new Lancia Stratos.
It's been one hell of a year, and there hasn't even been time so far to mention how we filled Lincoln Cathedral with anoraks or how I drove a Lamborghini Urethra up a ski slope. Not even Sir Attenborough does more in a series. And not even Tom Cruise travels further on his impossible missions. But the best bit, for me, was our trip to Scotland.
The idea was simple. In these days of escalating classic-car values, even a Ford Escort Mexico will cost you more than £60,000. So we decided to see if there are any old, interesting and pretty cars out there that can still be bought for sensible money. Pretty soon we had a Fiat X1/9, a Lancia Gamma and an Alfa Romeo GTV6. And all we needed then was somewhere to test them out.
We settled on Scotland because one of our producers is from north of the border. Which meant we could show the rain and the heroin and the midges and he'd be livid with us.
To begin with, everything went perfectly. It was terrible. The weather was miserable, my Alfa broke down, the houses looked as if they'd been deep fried in batter, there were speed cameras everywhere and every view had a rusting oil rig in it. "This is not at all how it looks on the shortbread tins," dead-panned Hammond.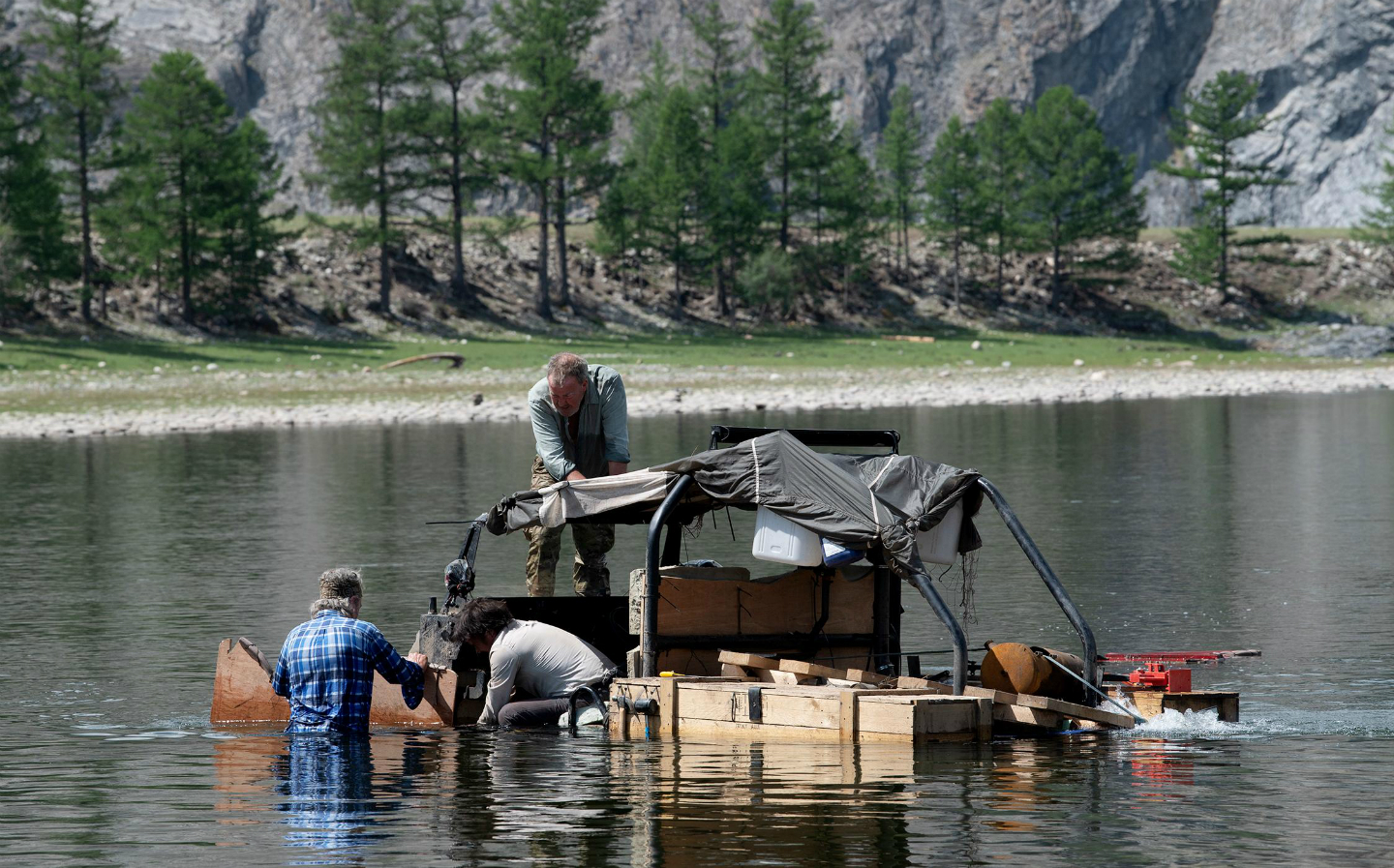 But then our plan went wrong, because we somehow ended up on the A835 from Inverness to Ullapool and, let's not beat about the bush, it was spectacular. We've travelled the world in search of the best road and we've come across many contenders. There's the Transfagarasan Highway in Romania, the road from Davos in Switzerland to Cortina in Italy and the Hai Van Pass in Vietnam.
There were snow-capped mountains. There was sky the colour of an Icelandic girl's eyes. There were slate-grey lakes and linking it all together was a twisting and turning ribbon of grey with absolutely nothing on it.
Almost every great bit of road these days is ruined by cyclists huffing and puffing in one direction and coming at you like gristle missiles in the other. But not the A835. There were none.
There weren't even any police patrol cars because they're all on the so-called "North Coast 500". Described by Condé Nast Traveler magazine as possibly the best road trip in the world, it's become a magnet for Subaru and Mitsubishi Evo enthusiasts. And Plod, who likes to pull the cars over to look at their engines and fine the drivers.
There's none of that nonsense on the route we found and as a result the drive I had in that Alfa was up there alongside a trip on gravel roads through the Northern Territory in Australia in a BMW M6 Gran Coupé and another through the Atacama desert in Chile in an on-its-last-legs Range Rover. I shall never forget it.
If this were the last series of The Grand Tour, I'd go to the vegetable garden with my pipe and slippers a happy man after a drive like that. But contrary to what you may have heard, it isn't the last series. You've got us for a few more years yet — starting on January 18.
Series 3 of The Grand Tour begins on Amazon Prime at midnight tonight, with episodes released every Friday.
The Grand Tour quiz: are you a Clarkson, Hammond and May super fan?