Currently on the blink: faulty chargers strand electric cars
The number of points at which drivers can recharge their vehicles is rising fast, but as Dominic Tobin discovers, many of them do not work properly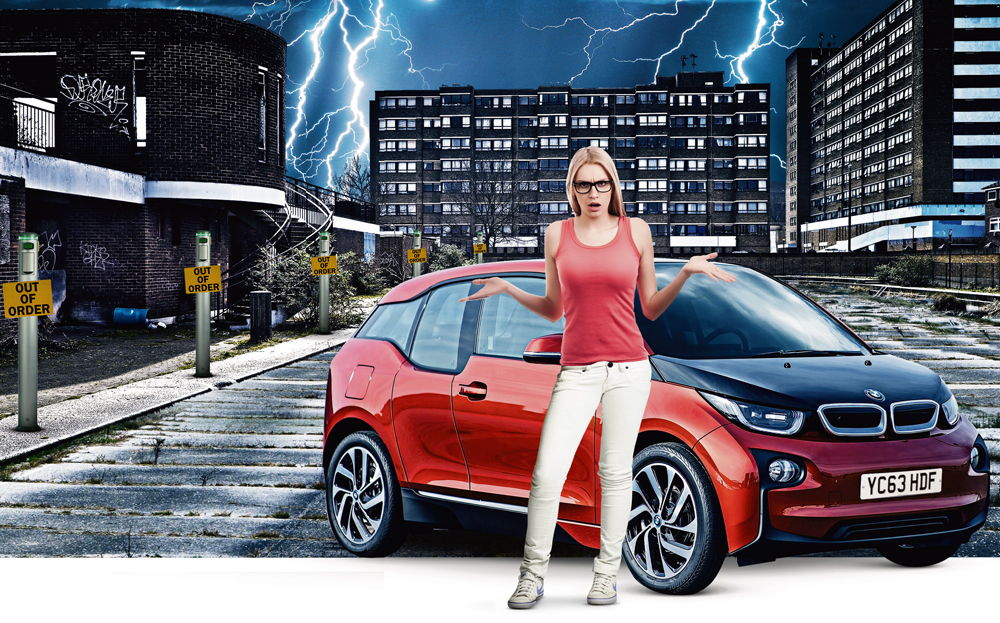 LOG ON to the website that shows the locations of all London's charging points for electric cars, and you could be forgiven for thinking that they were almost as common as Fairtrade coffee outlets.
And you would be right: the stations — poles fitted with sockets — are becoming a familiar sight on street corners and in multistorey car parks. On the face of it, they are evidence of a 21st-century battery-powered utopia. But try to plug an electric car into many of them and it's a different story: chances are you will receive not an environmentally friendly surge of electricity but a flashing red sign telling you the charging point is out of order.
Five years after Boris Johnson, the mayor of London, promised to make the city the electric car capital of Europe with 7,500 charging points dotted around the metropolis, it has emerged that despite millions of pounds of public investment a high proportion do not work, suffer unexplained technical faults or have been installed in the wrong place, making them impossible to use.
Figures supplied to The Sunday Times show that Source London, which runs the recharging network, recorded 1,139 faults last year, affecting 355 of the 881 units. When Driving tried the network, more than half of the charging points we tested were unable to recharge an electric car adequately. And when they do fail, many remain out of action for weeks. Figures from Source London show that over a quarter of charging point faults take more than 20 days to be resolved.
Source London, which runs the recharging network, recorded 1,139 faults last year, affecting 355 of the 881 units
Part of the problem may be that because so few drivers use the points, which are free once you have paid an annual £10 fee, the fact that many have fallen into disrepair has gone unnoticed. Last year, 378 of Source London's recharging posts (more than two in five) were not used by a single motorist.
The capital is not the only place with problems. Users of government-funded charging points in Milton Keynes and the northeast and southwest have also described repeated problems with unreliable charging points.
One of the main barriers to more widespread adoption of electric cars is the perceived problem of recharging them. Drivers worry about being stranded — so-called range anxiety. The fear among supporters of electric cars is that if charge points are unreliable, it may be worse than not having them in the first place.
"My view is that the current national infrastructure is not fit for purpose," says Kevin Sharpe, a businessman from Bradford-on-Avon, Wiltshire. "It's why a number of drivers are transitioning from short-range cars to range-extended versions, which typically have a small petrol engine to charge the car on the move."
Sharpe was so frustrated by problems with recharging his own electric car that he set up a charity, Zero Carbon World, which has built a network of free-to-use charging stations. It is one of several independent networks being set up by companies such as Tesla, Ecotricity and Chargemaster.
How hard is it to charge an electric car in Britain? We took a range-extender version of the BMW i3 on a trip across London to Bristol to find out. We tried a total of 30 charging points that were installed using some of the £67m of taxpayers' money available nationally for this purpose. At 18 of these, there was a problem that meant charging was either impossible, unreasonably slow or worked for only a short period. Another seven were blocked by non-electric cars.
The irony is that the unreliability of the charging network is emerging as car makers report rising interest in their vehicles. After years of disappointing sales, electric cars appear to be slowly winning over buyers
Snaresbrook station, on the eastern edge of London, was typical. It's the sort of place where you might drive in and park for a £6 fee, leaving your car to charge while you take the train to work. Once the BMW was plugged in to one of the points, however, it failed to charge. The same thing happened at the next charge point, with a message on the car's dashboard saying the voltage was too low. Source London's helpline was unable to assist. One final attempt to get some charge appeared to work at first — but the car's dashboard estimated a full charge would take 19 hours, rather than the four that it should have done.
In Stratford, east London, the first on-street charging point we tried promptly declared itself out of order on its digital display, although a second point did begin charging the car. Even the vast car park at the nearby Westfield shopping centre, next to the Olympic Park, failed to deliver. The charging points had stickers with Olympic symbols on them, but each attempt resulted in a false start: a brief burst of electricity before a light around the BMW's charging socket began flashing red, indicating that something was amiss.
A multistorey car park opposite the Tower of London with 10 charging points was next. Half were ruled out because conventional cars were parked in front of them, a problem known by the electric car fraternity as being ICEd — blocked out by vehicles with internal combustion engines. Others simply failed to work.
According to Source London, reasons for charging points being inoperative can vary. Some suffer mechanical failure and must wait for new parts, others fall victim to utility repairs that shut off the electricity supply. Some rely on a mobile phone signal to verify the driver has paid the annual fee; if they are installed in an underground car park, for example, where reception is patchy, this can mean they don't function.
The organisation says the charge points are owned by its partners, which include car park operators and public bodies. It says they should have agreements to maintain the charging points and that it is working on solving the mobile phone problem.
Are publicly funded charging points any more reliable elsewhere? In 2010 the Department for Transport (DfT) awarded the first of a series of grants, worth £30m, under its Plugged-in-Places programme designed to create a national charging network. So far, £17m of that has been used in areas from Northumberland to Norfolk and the DfT has made another £37m available for electric infrastructure projects.
In addition, local authorities have taken advantage of other grants. Bristol was awarded almost £100,000 from the local sustainable transport fund and, more recently, won £562,200 to install rapid chargers. Recent figures suggest that the network, called Source West, is rarely used: in 2012 there were just 14 users of 36 charging points.
As in London, finding the recharging points in Bristol is easy, via an online map. But while the first two attempts worked well, by the third a familiar pattern was emerging: a lack of power. And that's if the promised charge point is there at all: one of the final sites, next to Temple Meads station, was no more than a wire protruding from the ground.
The irony is that the unreliability of the charging network is emerging as car makers report rising interest in their vehicles. After years of disappointing sales, electric cars appear to be slowly winning over buyers. New, stylish models such as the BMW i3 and Tesla Model S have joined the market alongside well-regarded cars such as the Nissan Leaf, Renault Zoe and Volkswagen e-Up!. Last month sales of pure electric cars rose to 823: a rise of more than 200% over the same month in 2013. But if new owners can't recharge, the uptake risks being choked off just when it appears to be getting going.
Look — no wires
Plug-in charging points may be suffering glitches but the Highways Agency is working on plans to test wireless technology that could make them as redundant as the typewriter and cassette Walkman.
The agency, which operates Britain's motorway and trunk roads, is drawing up an initial specification for a system of charging pads that can be placed underneath the road surface. When a car with a receiving pad passes over each one, an electromagnetic field is generated and energy transfers to the vehicle. A network of pads could provide a continuous supply of energy, eliminating range anxiety.
The technology will not be trialled for at least two years. The Highways Agency says that it will need to be developed to withstand constant pummelling by lorries, as well as the wind, rain, ice and snow of a British winter, for up to 16 years, after which the pads would be replaced at the same time as the road surface.
By that time, electric racing cars in the new Formula E championship, which begins later this year, are expected to be using wireless charging to keep their battery levels up during races. However, it is buses that are leading the way: electric buses in Milton Keynes already charge their batteries wirelessly while parked at each end of their route. Some in London will begin doing so within a year.