Faster than Bullitt: 1968 Ford Mustang vs 1968 Dodge Charger (video)
Let's cut to the chase, Lieutenant Bullitt
---
Published 29 September 2014
THERE ARE many question marks over the car chase in Bullitt — regularly voted the greatest in movie history, writes Nick Rufford. Why does the Dodge Charger, being chased by Steve McQueen in a green Ford Mustang, lose six hubcaps? How come the two speeding cars pass the same VW Beetle several times — San Francisco isn't that small, surely?
But the most keenly argued point of dispute, at least among car buffs, is whether a 1968 Ford Mustang really could catch a Dodge Charger.
---
Search for and buy your next car on driving.co.uk
---
McQueen may have been a great driver — and no doubt the film makers factored that into his character, Lieutenant Frank Bullitt — but on paper the Mustang appears to be the inferior car. With 50bhp less than the Charger and a heavy, big-block engine unsettling the car's handling, it would surely have come off worst in a duel.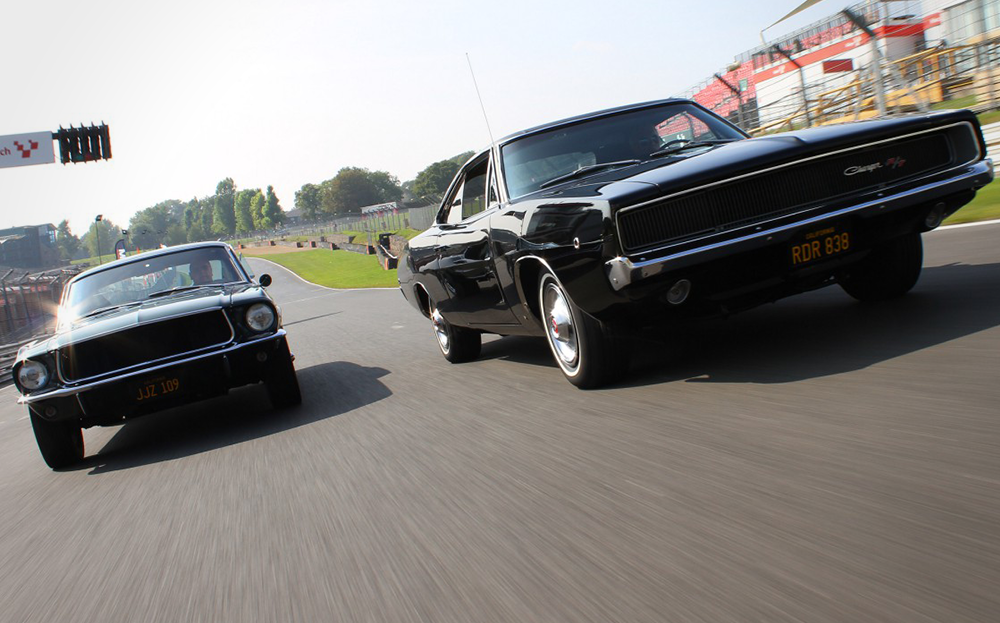 In fact, rumour has it that to make the chase closer, the Hollywood engineer Max Balchowsky installed a racing cam on both Ford Mustangs used in filming, milled the cylinder heads and modified the ignition and carburettors.
In an attempt to settle the question once and for all, we tracked down two classic cars owned by Bullitt aficionados — a Mustang belonging to Dave Redhead and a Charger owned by Chris How — and took them to Brands Hatch in Kent for a race. OK, so it wasn't quite the hilly terrain of San Francisco and the sun wasn't quite as bright, but it was as close as you can get to answering one of the great unanswered movie puzzlers.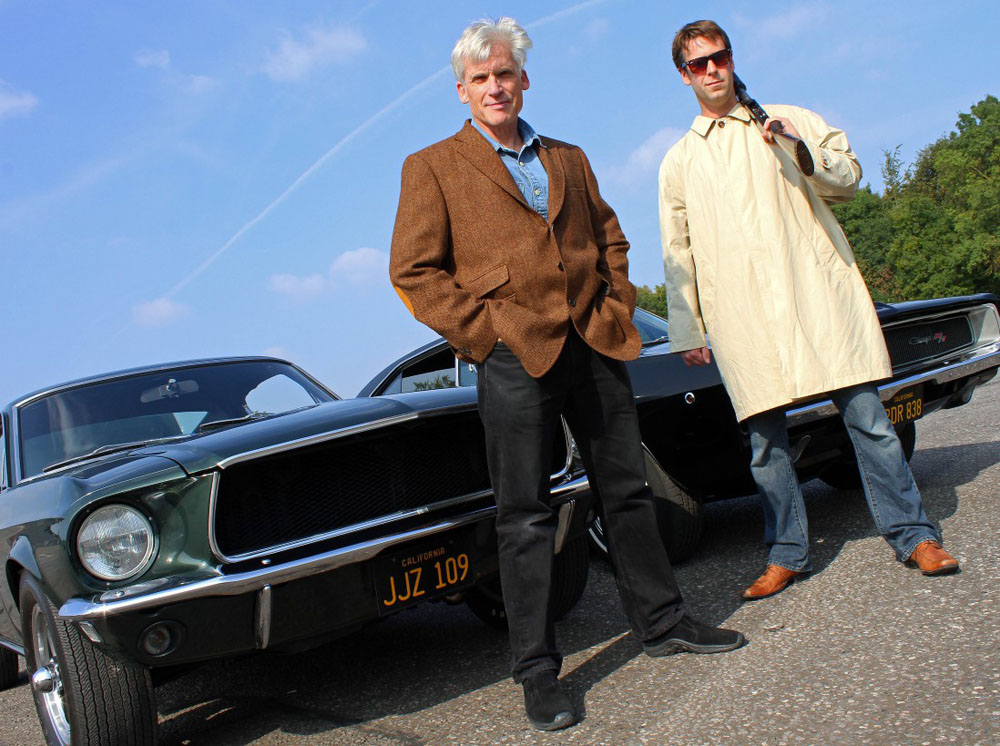 Before we get to that, however, a little bit of history. The 11-minute car chase in Bullitt, which had no dialogue and just the sound of two howling V8s, was added as an afterthought by the film's director, the late Peter Yates. Shot on location on the jagged hills of San Francisco and along the canyon roads, it helped to make the film a classic. The Mustang, meanwhile, became a pop culture icon, joining a handful of cars such as the Alfa Romeo Spider in The Graduate and James Bond's Aston Martin.
Yet the Mustang was launched in 1964 with no such ambitions. Young American couples and families were hungry for a mid-priced, mid-sized, practical form of transport. Like the Beatles, who had arrived a couple of months earlier on their first visit to America, it became an overnight sensation. It was a pile 'em high, sell 'em cheap car and still holds the record for the fastest-selling model in history.
It wasn't until 1967 that Ford cranked up the Mustang's output, with a 390 cubic-inch (6388cc) V8 that gave the car its muscle. Even so, it may not have been the natural choice for Lieutenant Bullitt — McQueen was a Porsche fan — but the film studio Warner Brothers had a deal with Ford to supply cars.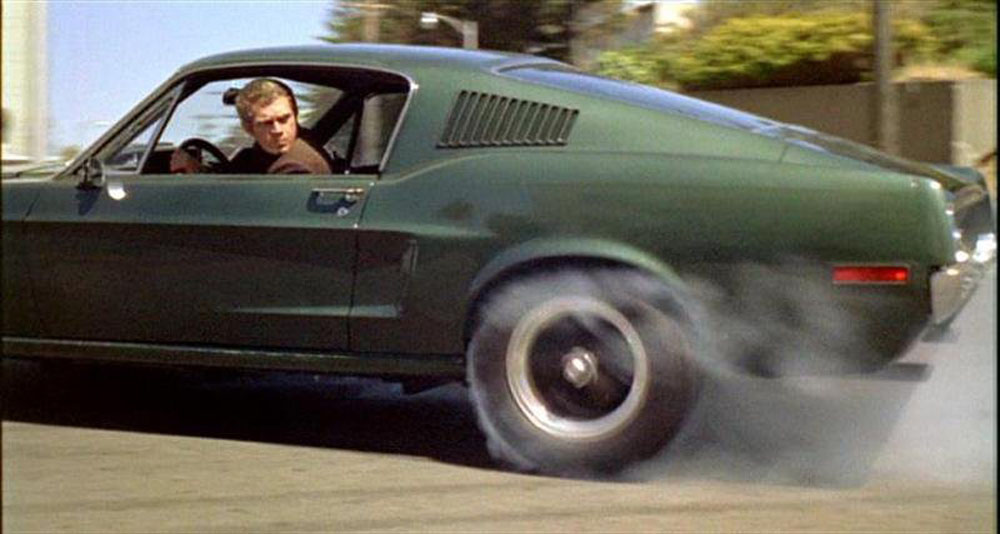 After the film's release in 1968, the Mustang, like its driver, was imbued with a coolness that no rival could match — but it was shortlived. The company squandered the opportunity and the second-generation Mustang was a lacklustre coupé with a choice of underpowered engines. Worse, it was based on the Ford Pinto — the hatchback that became notorious for bursting into flames if it was hit from behind in a traffic accident. Ford had gelded the once proud "pony car".
So back to Brands Hatch. The last time we attempted a test of this kind, the Charger was fastest but all was not well under the bonnet of its rival Mustang. Readers said it was unfair and demanded a rematch.
Of the two cars we tested at Brands Hatch, it was clear that the Mustang was quicker — not just from a standing start in the paddock but round the twists and turns of one of Britain's most challenging racing circuits. The problem was that despite having more horsepower, the Charger drove like a motor home. It has oil-tanker steering — you turn the wheel and wait while the chassis thinks about what to do. True, the Mustang felt pretty sluggish in the bends compared with a modern car (the chase car we used for photography was a Peugeot 306 estate and it kept up) but it was still superior to the Dodge.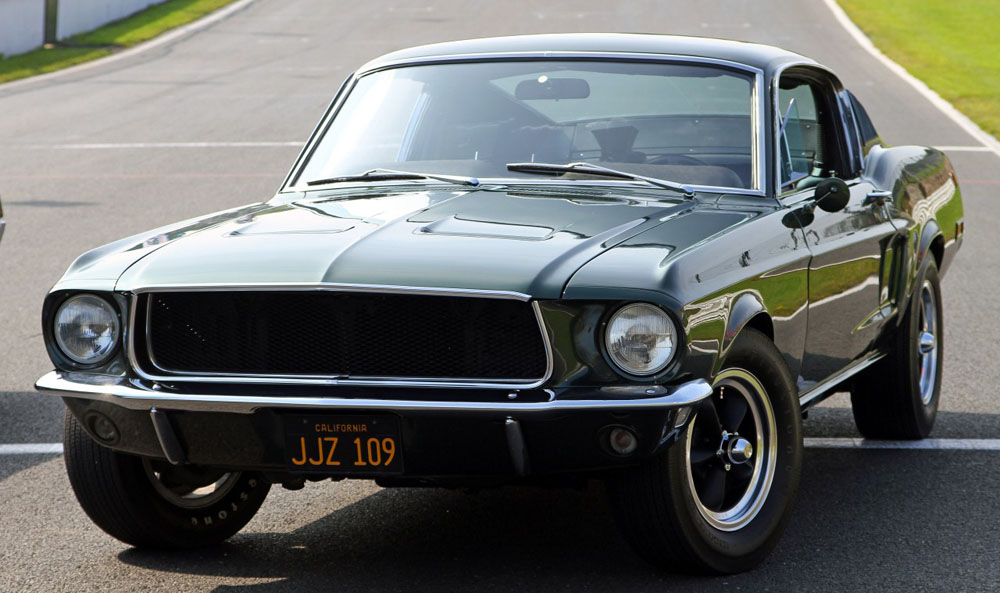 The Mustang is a rare piece of classic design translated into metal. Engineered for cheap mass production, it was nevertheless miles cooler than any other car of its day — and still is.
Parked outside the Grand Prix terrace cafe, the Mustang drew crowds who had come for a track day. People ambled over to take pictures, run their hands across it and ask permission to sit inside and grip the old-fashioned deep-dish steering wheel. It was the kind of attention that would have flattered even an exotic supercar.
In shooting Bullitt, the film crew used two Mustangs: one was junked afterwards and the other was acquired by a Warner Brothers employee who sold it. The new owner resisted all offers for it, including one from McQueen. Towards the end of his life the actor wanted the car back. You can see why.
Thanks to Brands Hatch and Custom Exotics
Dodge Charger… look out: there's a kingsize waterbed on your tail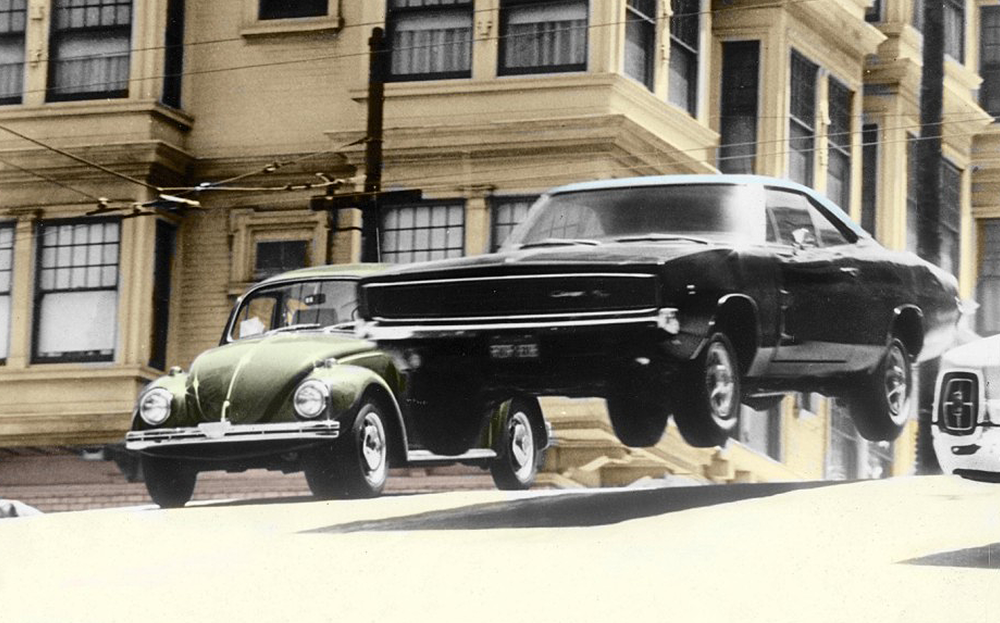 IF A hearse manufacturer branched out into very fast, high-performance coupés, it would probably build something like this Charger, writes Ben Barry.
Squish yourself into the flat, slippery vinyl seats, turn the ignition key and its V8 motor chugs into life noticeably more quietly than the Mustang's. It idles broodingly in a manner that perfectly complements the blank death stare of the shrouded headlights and the tension we feel in the film when Frank Bullitt (McQueen) first spies it lurking beneath Highway 101.
That insistent chug says, "I'm going nowhere buddy; you can run all you like but I'll still be in your rear-view mirror." McQueen, of course, turns the tables and chases down the Charger.
When you prod the Dodge's throttle, shockwaves of power rock the car's body as if the V8 is trying to escape its confines; 7.2 litres and 375bhp under your right foot is a lot, even these days.
Shift the Torqueflite auto box to Drive (two Chargers were used in Bullitt, one auto and one manual) and plant the throttle and there's a gargle and a roar as fuel washes through the four-barrel carburettor, the chug now a thunderous hammering. The long bonnet rises like a powerboat as the Charger shifts through its three gears with surprising alacrity, its rear rubber gripping more convincingly than the Mustang's.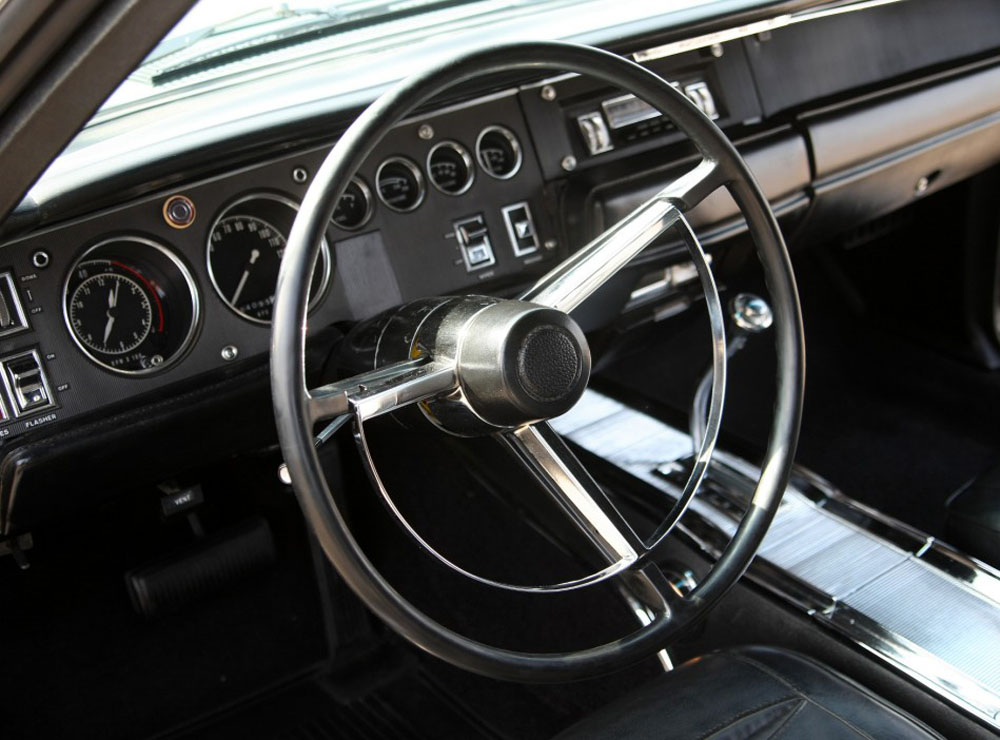 The Charger is particularly quick for a heavy car almost half a century old and more than 16ft long, but it feels as though you're speeding in an oversized waterbed. The big three-spoke steering wheel's action is fingertip light and feels rather detached, and the chassis fulfils the American muscle-car stereotype of being built for comfort on long, straight roads.
The Charger rolls and pitches so alarmingly that you instinctively roll up the windows for fear you'll fall out — no wonder the villains paused pre-chase to fasten their lapbelts. The Mustang feels tauter than the Charger; it's nimbler and shorter too, and this gives McQueen the edge when he slips between a dawdling Beetle and some parked cars.
At least the Charger's brakes haul you up promptly, while its length allows it an extra pair of seats and a small wind-up window perfect for shooting through.
Apparently the Bullitt Chargers had stock engines but uprated suspension — and this one reveals why: throw a production car down a San Francisco street and the bouncing wouldn't stop until you hit Hawaii. Racing it gave me a new perspective on Bill Hickman's stunt-driving skills, as well as those of the Dukes of Hazzard drivers who were still trashing Chargers a decade or so after Bullitt was released.
Charger prices are rising: in 2009 Chris How, the owner of the one I drove, paid £15,000 for his good, but not perfect, example before subjecting it to a Bullitt-style makeover and restoration. Now a similar car would command at least £35,000. It is a whole lot of cash but, then again, a Bullitt Charger has a whole lot of cool.
| | | |
| --- | --- | --- |
| | 1968 Ford Mustang GT Fastback* | 1968 Dodge Charger R/T 440 Magnum |
| Engine | 4946cc | 7210cc |
| Power | 325bhp | 375bhp |
| Transmission | 5-speed manual | 3-speed automatic |
| Acceleration | 0-60mph: 5.5sec | 0-60mph: 5.2sec |
| Top speed | 140mph | 136mph |
| Fuel | 20mpg | 10mpg |
| Price (in 1968) | $2,900 | $3,480 |
| Verdict | Lacklustre performance but utterly fantastic | Brutally fast with inadequate handling |
 * Dave Redhead replaced his Mustang's big block V8 with a smaller unit to improve handling.
---
Search for and buy your next car on driving.co.uk
---