Exclusive: At the wheel of Steve McQueen's £5m Ferrari 250 GT
It was the car that actor and petrolhead Steve McQueen loved most, but after its sale to a mystery buyer in 2007 the Ferrari Lusso all but vanished, leaving Nick Rufford to dream of finding it. Then his phone rang ... would he like to drive it?
A BLUSTERY racetrack in northern England. Storm clouds are gathering and it's about to start hailing. Hardly ideal conditions to test-drive a 50-year-old Ferrari that comes without traction control, antilock braking, power steering or any of the other aids that today's cosseted drivers take for granted.
As the hail comes down in sheets, and the car is gently offloaded from the covered truck that has brought it to Oulton Park racetrack, Cheshire, I remind myself that this car has an estimated price tag of £5m. One dent on the bodywork or even a scuffed tyre will cost more than my annual salary to put right.
I can be forgiven for feeling a little nervous. This, after all, is no ordinary classic car. The slender lines of the 1963 Ferrari 250 GT Berlinetta Lusso are unmistakably those of Steve McQueen's favourite machine.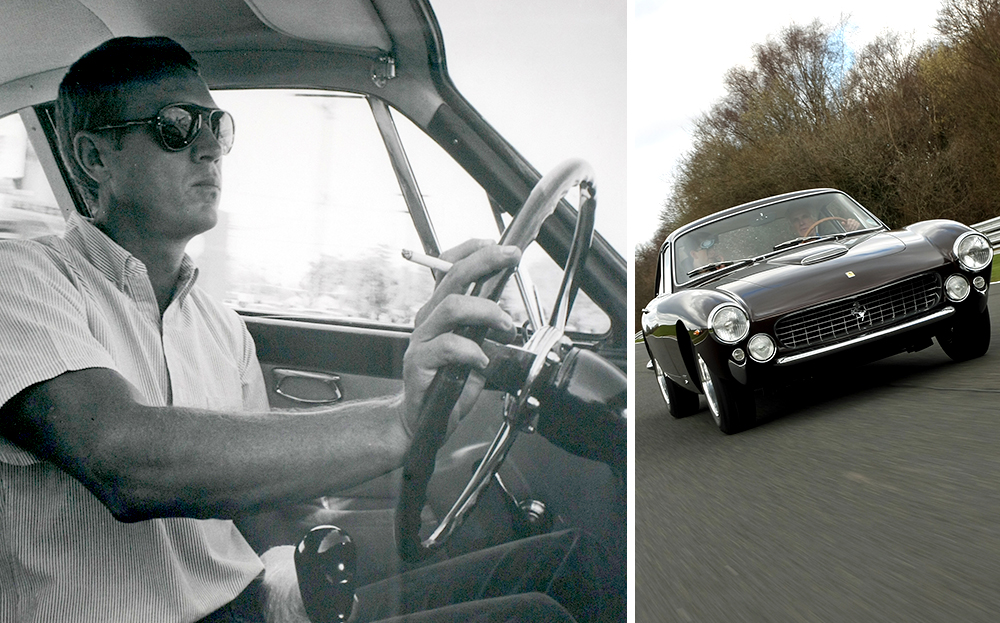 The actor and Hollywood legend had a well-documented love affair with cars, owning a garage that included many of the greatest vehicles of the era. But this was his first love. Bought for his 34th birthday by Neile, his first wife, 50 years ago, it cost $23,988 new and became McQueen's plaything during lulls in filming in the 1960s — the actor's most productive period. The Great Escape had propelled him from being another film actor to an international star, with all the trappings of success.
It is the McQueen connection that gives the car its price tag, but perhaps the most surprising thing about it is that I am allowed anywhere near it at all. Usually these cars are kept under lock and key in air-conditioned garages; part of private collections and rarely driven or even seen, let alone "tested" by a journalist.
---
Want a Ferrari of your own? Browse our selection of quality used Ferraris on driving.co.uk
---
Getting to this point hasn't been easy. It started several years ago when the car was bought at auction in America for $2.31m. The buyer was anonymous, but rumours swiftly began circulating that he was based in Britain and that the car had been shipped to this country. The question was where, and to whom?
The car showed up occasionally at Concours d'Elegance — beauty pageants for cars — around Europe, and entered the Mille Miglia 1,000-mile race in Italy, but the owner remained mysteriously in the background.
My search began with a call to Jason Harris, Ferrari's UK head of corporate communications. He promised to contact "a number of people affiliated to Ferrari's European network" — a sort of big Italian family, apparently. When I inquired as to who they were, he said in a tone that made it clear that I didn't need to know: "Top people."
A long while later when I'd all but forgotten about the request, the phone rang. It was Mike Pearce, a Ferrari enthusiast and dealer based in Merseyside. He was calling to discuss the Lusso but, no, he didn't own it. Rather, he looked after it for someone. How would I like to be McQueen for a day, and drive it at a racetrack? "The owner wants people to enjoy the car the way McQueen did," Pearce said. There were only two conditions: the owner wishes to stay anonymous. And don't damage the car.
Now that the car is on the start line it's a glorious moment. I twist the ignition key and the engine bursts into life. I'm expecting coughs and splutters, but no, it ticks over as smoothly as a modern 458. Power for the Lusso comes from a detuned version of the three-litre V12 used in the Ferrari 250 GTO, the Lusso's first cousin. The main difference is that this boasts three twin-choke Weber carburettors instead of the six in the GTO. The chassis is the same as the GTO's; so are the disc brakes.
"The owner wants people to enjoy the car the way McQueen did," Pearce said. There were only two conditions: the owner wishes to stay anonymous. And don't damage the car.
Top speed when new was 150mph but I won't be taking it anywhere near that. As I accelerate past the pit lane I have the track to myself, but a small audience has gathered in the stands — admittedly mainly Oulton Park staff — to watch the spectacle and perhaps see me wreck one of the world's most desirable cars.
The Lusso is a true child of the Sixties, a GT cruiser, with two seats, a rear luggage compartment and soft leather seats. A row of circular gauges is set into the leather dash just to the right of the wood-rimmed Nardi steering wheel. The chrome-plated wire wheels were made by Borrani — the originals have been rebuilt with new spokes, hubs and Dunlop SP Sport tyres.
The bodywork was designed by Pininfarina and rendered into metal by Scaglietti, a car builder who liked to say that he sculpted cars rather than assembled them. It was made in the days when the secrets of panel beating were passed down through generations, and the craftsmanship gleams through the thin steel.
McQueen loved cars, but he also loved to wreck them. Stories about how he drove rentals so hard they caught fire were legendary in Hollywood, and the fact that the Lusso was rare and expensive didn't stop him from "spanking" it when the mood took him.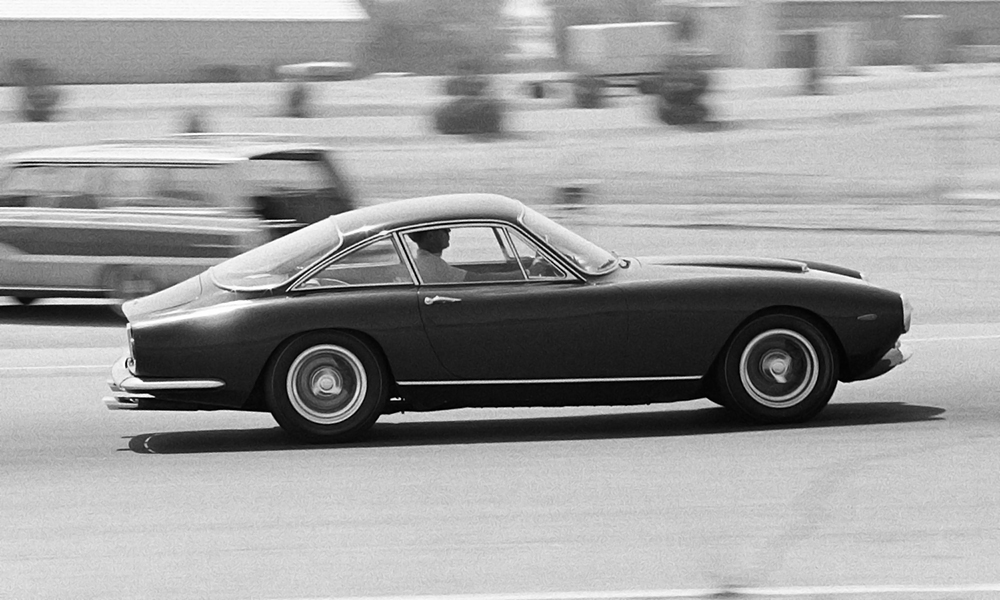 He was a fiend for high-speed road trips. William Claxton, a photographer friend of McQueen's, recalls an adventure in 1964 that took them from Los Angeles to San Francisco, Lake Tahoe, Death Valley and back.
"We would set a place to meet for lunch and then take off, Steve in the Lusso and me in my Porsche 356 SC," recalled Claxton. "It was a leisurely trip, in spite of the times that Steve would pass my little Porsche at about 130mph. Steve's idea of fun was to go roaring off and a couple of hours later to be parked by the side of the road pretending to be bored waiting for me to arrive. It was a great time — he really loved that car."
With the outside temperature dropping, it's time to test the heater and yes, it still works. Ice pellets are bouncing off the track as I navigate Knickerbrook Corner. The spectators have scurried for cover. Sitting where McQueen sat, it's hard not to reflect on his life — and untimely death. He was just 50 when he fell victim to cancer. Had he lived, he would have turned 84 last month and no doubt still be blasting his cars down the Pacific Coast Highway near his home in Malibu.
Of course, he wouldn't have been the slightest bit concerned about the weather at Oulton Park. No, he would probably have driven through the storm wearing sunglasses, one hand on the wheel, casually smoking a cigarette. After Bullitt, he was voted the coolest actor in the world, even though he dressed like a geography teacher.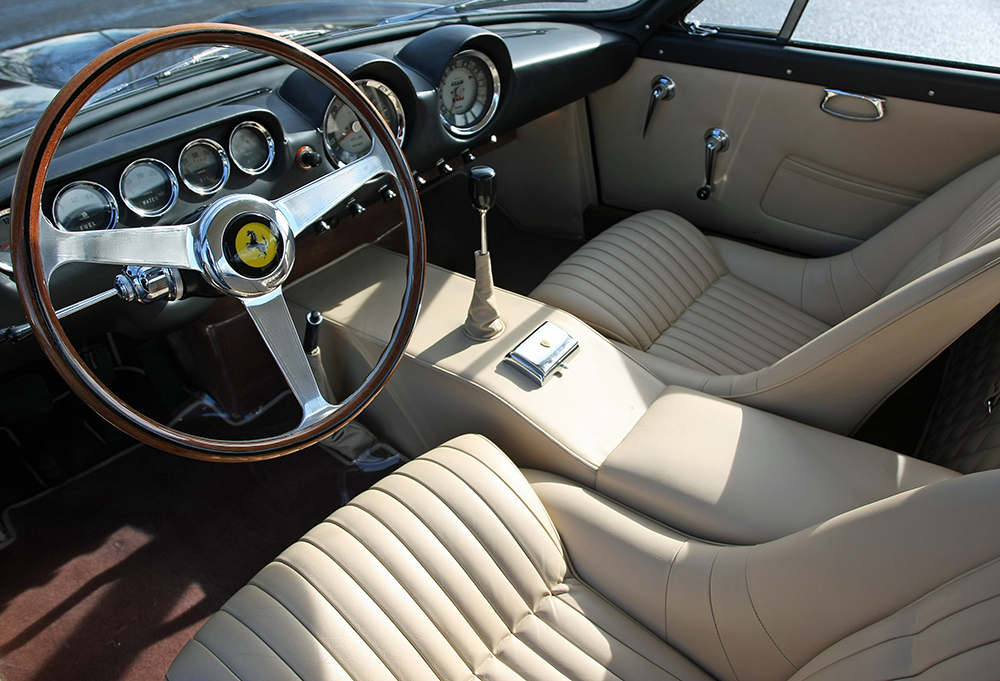 Today, his son, Chad, looks after what remains of his father's collection of cars and motorbikes. "I don't remember much about the Lusso from back then — I was only three years old — but I've heard Mom talk about it a lot," he said. "I've seen all the pictures of them with it, especially those by Bill Claxton, and it's just beautiful."
After nearly an hour on the track — and no mishaps — I steer the Lusso into the pit lane and can't resist a gentle skid to a halt — the way McQueen would have done it. Pearce gratefully accepts the keys. It turns out that he was the one on the end of the phone doing the bidding for the current owner when the car was purchased in 2007.
"It was auctioned by Christie's at their Monterey sale. I was on the telephone bidding from my lounge with a large glass of scotch and the instruction to buy the car even though it ended up being a chunk more than the budget."
With the Lusso safely back in the trailer, out of the hail at last, it's time for another scotch.
Steve McQueen's Ferrari 250 GT Berlinetta Lusso specifications
Engine: 2953cc, V12
Power: 247bhp @ 7500rpm
Torque: 178 lb ft @ 5500rpm
Transmission: 4-speed manual
Acceleration: 0-62mph in 7.5sec (estimated)
Top speed: 150mph
Price: $23,988 (1964); £5m today
Release date: On sale 1963
To experience driving at Oulton Park, drivers can take any road-legal car for a day on the circuit on specified dates this summer for £229 (msvtrackdays.com)
---
Want a Ferrari of your own? Browse our selection of quality used Ferraris on driving.co.uk
---
Classics, from Aston to Zagato
If you want to see more classic Ferraris like McQueen's, the London Classic Car Show will be right up your tree-lined boulevard.
The exhibition, taking place at London's ExCeL centre, promises to feature "all the sexy and cool stuff of yesteryear". See cars that defined their era, from Aston Martins to Zagatos, owners in period costume, beautifully refurbished originals and fantastic replicas, plus Americana and memorabilia stalls.
Unusually for a classic car show held indoors, you'll be able to hear and smell more than 60 of the exhibits too, as they drive up that boulevard, created just to show them off.
The exhibition will be held on January 8-11 next year. For more information, sign up at thelondonclassiccarshow.co.uk