20 years of Clarkson: Toyota Land Cruiser Amazon (1999)
Gruesome revenge of the beast I tried to kill
Originally published July 11, 1999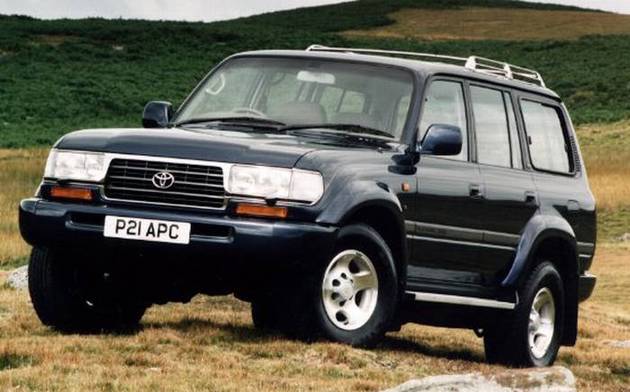 The Chrysler Voyager is like that creature from Hallowe'en. You can stab it, shoot it and throw it out of the bedroom window, and six months later it'll be back in the sequel — School Gates II.
You were told in 1997 that Mr Blair and the wide-mouthed frog were using one to ferry their children to and from school. And even though you know the man is a war criminal, you still went ahead and bought one.
Last year you were told that it came stone dead last in a survey to find Britain's most environmentally friendly cars. And six months ago, in this very column, I announced that the Vauxhall Vectra had lost its crown. "The worst car you can buy now," I said, "is the Chrysler Voyager." I hated it.
But still the queue to buy one stretched out of the dealership, round the corner and halfway up the inner ring road past Asda.
Last week, though, I really thought its time had come. In official crash tests, part-sponsored by the government, it was described as "appalling". In a frontal impact at 40mph, the steering column was forced up into a driver's head and the footwell split open. It scored zero, making it not so much a people carrier as a people killer. Surely, I thought, this would be it, the end of the road. No more rearing up out of the bath to stab Michael Douglas. It would be dead.
But no. An owner told me yesterday that he wouldn't be getting rid of it because it was only the driver who'd be killed, not the kids in the back.
I don't think I've ever encountered such collective lunacy. You know it will kill you, your family and the planet. You know that it's uncomfortable and ungainly. You know it's the choice of Mr Blair, and still it is the second-bestselling people carrier.
Of course, those with four children will say there is no alternative, that no people carrier is desperately safe, except the Toyota Picnic, and there's no way you will drive around in something called a Picnic. Quite right, too.
---
1999: the year in cars
 Alex Ferguson escapes a penalty for driving down the hard shoulder by saying he had diarrhoea. His lawyer, Nick Freeman, earns the nickname Mr Loophole.
 Leaded petrol is banned from the end of the year, except by special licence, consigning four-star to history.
---
Well, I've just bought an eight-seater that could run into a house at 40mph and everyone inside would look up quizzically and say, "Did anyone feel a bump just then?"
It is a Toyota Land Cruiser and it is so vast that, if our dog were to die in the back, it would be three months before the smell reached our noses in the front. I saw some footage the other day of what happens when a big off-roader hits a normal car, and it was incredible. It just rides up the ordinary car's bonnet, ripping the roof clean off and severing the heads of anyone inside.
The commentator was trying to tell us we should all buy Golfs as a result. But me? I was jumping up and down on the sofa shouting, "I have got to get me one of those." I wanted the biggest off-roader that money could buy. You can keep your Land Rover Uzis and your Shogun AK-47s. I wanted the Toyota Howitzer.
New, a Land Cruiser costs £44,000, but I got round that by buying a P-registered model with 30,000 miles on the clock. It cost £22,000 and, no, I didn't spend extra on a warranty. As it was designed to go from Adelaide to Darwin, it should be able to manage the school run without exploding in a maelstrom of cogs and wire.
So, short of buying a tank, we now have the safest, most reliable car in which to move our children around. Which makes me all warm and new-mannish. I may even bake a cake this afternoon, and do the hoovering.
But there are drawbacks, chief among which is the sheer cost of keeping it going. The school is 18 miles away, which equates to 72 miles a day, and that adds up to £150 a week in petrol. I worked out yesterday that if I drive one mile into town for papers, it costs 50p for the papers, 60p for the fuel and £400 for the remedial dental work.
I'm sure you need hard suspension for trips across the Nullarbor Plain, but it doesn't half get wearing on the A44. The Land Cruiser's like a suit that's been lined with sandpaper. With its air-conditioning and leather seats, it's outwardly smooth, but the slightest bump and you'll be needing a Band Aid.
It is so uncomfortable and thirsty, in fact, that I tend to avoid driving it and, to make matters worse, so does my wife, who says it's a big, ugly grey box and refuses to go anywhere near it.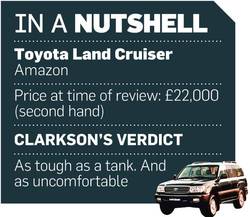 Last week she hammered the point home by taking our four-year-old to school in her BMW Z1, which offers all the protection of a Kleenex. It doesn't even have proper doors.
And yesterday, when a neighbour called round and offered to do the school run on our behalf, we agreed with the sort of vigour that dogs display when you offer them a quick snack.
And guess what she was driving. Yup, a Chrysler Voyager.