20 years of Clarkson: Saab 9-5 review (2010), with added Cruise and Diaz
Hey, good-looking, you make my tummy go funny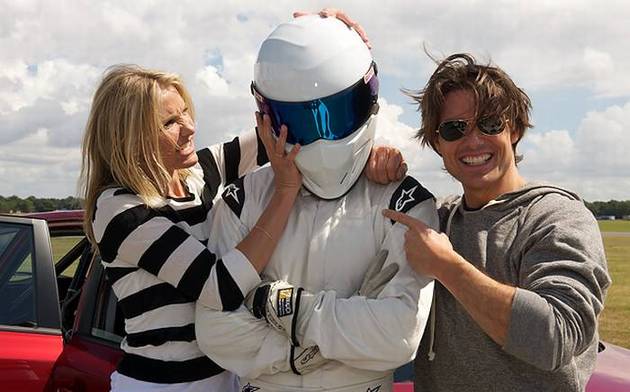 Originally published July 25, 2010
So there I was, in a supercharged Jaguar XK, with smoke pouring off the rear wheels and the V8 bouncing off the rev limiter as Cameron Diaz slammed it into yet another massive tail slide. People dream about this sort of thing. Being driven on a beautiful sunny day by one of the most beautiful women in the world in one of the most beautiful cars, sideways, at 100mph. And yet all I could think was: "Oh no. I'm going to be sick."
I really didn't want to vomit on Cameron Diaz. But neither did I want to say: "Er. Please can we stop now." Because when it's a beautiful day and you're in a beautiful car with one of the most beautiful women in the world, you want it to go on for ever.
"Please can we stop now," I said. Later in the day I was chatting to Tom Cruise — it honestly was that sort of a day — about flying fast jets. He'd been in an F-14 while filming his smash hit Top Gun, and I'd been in an F-15 while filming a slightly less successful television series called Extreme Machines.
I was extravagantly sick while doing that too. I filled one bag with the mildly digested remains of my breakfast and another with everything I'd eaten the day before. I honestly believed there was nothing else to come up but as the pilot nosed the plane into a -2g dive, I barked my spleen and what looked like my left lung into the delicate bomb-aiming equipment.
Tom was laughing, and then he admitted too that he'd been a bit poorly in the F-14. Did some sick come out? "Yes," he admitted sheepishly.
Sadly, Cameron wasn't around to hear that one of the biggest action stars in the world also gets a bit sick because she'd gone to get something that would make me feel better. It was a biscuit.
So there I was, talking about sick, and eating biscuits with Tom Cruise and Cameron Diaz, and the sun was shining and it was the best day ever.
What made it so good was that most of the guests who come to Top Gear arrive on time, do their lap, sit in a small room with their manager and then come into the studio to do the chat stuff. No one has any problem with that. They have a busy promotional schedule and want to make the most efficient use of their time. Fine.
---
2010: the year in cars
 Councils run low on road grit, the government sets up a Salt Cell crisis management group and thousands of drivers are left stranded as a deep freeze hits Britain.
 The new Bugatti Veyron Super Sport is the world's fastest car, with a top speed of 268mph.
---
We assumed, however, things would be a bit different with Tom Cruise and Cameron Diaz. You imagine that they will demand motor homes made from myrrh, their own hair and make-up teams, who have to be flown in from Cambodia, tea that can be bought only from the North West Frontier and chairs made from actual French babies. You also expect you'll get a list of things you may not discuss. Which includes everything except the film they're promoting.
So imagine our surprise when Tom Cruise turned up two hours early, with his sister. And a billion people from Fox who couldn't quite understand why on earth their big star would want to spend any longer than necessary on a windswept airfield in Surreyshire.
Two hours, however, turned out to be nowhere near early enough for what Tom had in mind. He set a lap time in a shower, but then the sun came out so he wanted to go again and see how he'd do on a dry track. The billion Fox people realised this would throw their schedule into disarray and immediately all of them whipped out their BlackBerrys to talk to Battersea heliport.
Then he decided he wanted a go in the Bugatti Veyron Super Sport. Out came the BlackBerrys again. "Can we land a private jet on the Mall?" One of them explained that he had a premiere to attend that night but Tom didn't seem that bothered. "I'll get changed in the car," he said.
You might imagine Cameron was different. She wasn't. She wanted to do doughnuts. She wanted to try the new hot BMW Z4. She wanted to chat. Tom wanted to chat. Not just to me, but to the people who brought them things. To everyone. The researchers. Even James May. The BlackBerrys were melting.
Eventually we started the show and we had to talk about vomit and that went on for a lot longer than I'd thought. And then a member of the audience fainted and Tom was out of his seat, making sure the poor man was all right. And the billion people from Fox were probably thinking: "Can we just shoot him and get on with it?"
But Tom was having none of that and, once the man was all right, he sat back down and we talked about his Mustang P-51 (that's a Second World War fighter plane) and Cameron talked about how she's broken her nose four times and how a lot of stuff goes into her face. And then we talked more about sick. And then they were ushered by the Fox people into the waiting cars to get up to London for the premiere of Knight and Day, the film they're promoting. But Tom wasn't quite finished. "Would it be possible to have an 'I am the Stig' T-shirt?" he wondered. And so we gave him one and he was gone. And we did the rest of the show and then I drove home.
I'm afraid for most of the journey I was still on a bit of a high from my best day ever, and I'd probably done 50 miles before I thought: what am I driving? And realised it's a car I thought would never happen. The Saab 9-5. For many years Saab was a division of General Motors and it was obvious the Americans had no idea what to do with it. So after a while they decided to close it down, while simultaneously designing an all-new car. The 9-5.
You might imagine that in these circumstances the designers and engineers would spend most of their days looking for another job rather than bothering to make the new car any good. But they did eventually show us what it looked like. And we were impressed. And then General Motors pulled the plug.
For a while it looked as if the new car would never actually get launched, as if Saab was gone. But at the last moment a man called Victor Muller — who also owns the Dutch car firm Spyker — stepped up to the mark and bought Saab. For less than the price of a wind tunnel.
This led to another problem. I imagine Muller's banks and backers would want a return on their faith as quickly as possible. So I'm assuming they leant on the engineers to get the nearly finished 9-5 onto the market. Yesterday.
But. But. But. The crucial suspension tuning work on a new car is always done in the last few weeks of its gestation. And you get the impression that such was the rush to get this car into the showrooms, the work was either done in a hurry. Or, in some potholes, not actually done at all.
The 9-5 rides badly but still wallows about in the bends. Imagine a canal boat on the M1. Now imagine it in a rough sea. That's what the 9-5 is like.
And that is a huge pity for two reasons. First, if people don't buy this car, Saab will be finished, and that would be a shame. And, second, the rest of the car is either good or very outstanding.
It's based on an elongated version of the Vauxhall Insignia platform, and that means there is an almost unbelievable amount of space in the back. And the boot is even more enormous. I bet you could get all of Abba in there easily.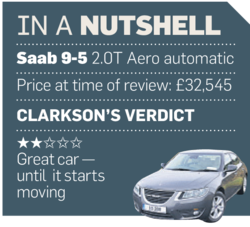 Further forward, the dash is clever, and, outside, the styling is sublime. It's exactly what you think a modern Saab should look like. There's only one issue, really. To make it look even better, you might be tempted to fit the big wheels. But they will make the ride even worse.
Unless you are a Saab nut, I cannot recommend you buy this car … yet. But surely to God they will be working now on those suspension issues, and soon, if enough cash rolls in in the meantime, a better version will come along. It's an easy fix.
To close, I wonder if Saab's ad men will continue to insist Saabs are based on jet fighters. It's a hard sell when we know this one's actually based on a Vauxhall saloon.
But in one way, as Tom Cruise and I will testify, it is just like a jet fighter. It makes you feel a bit sick.