20 years of Clarkson: Ford Probe review (1994)
A trick of memory
Originally published February 6, 1994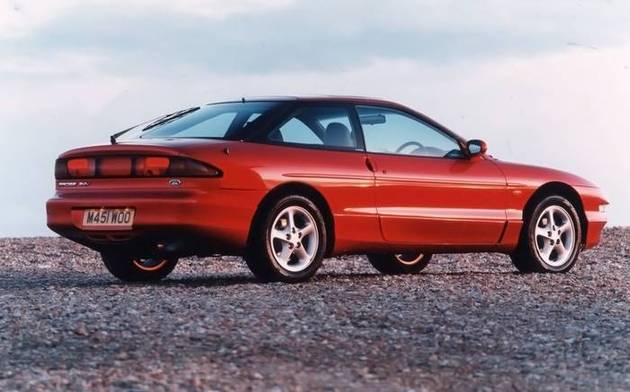 Wedding photographs. It doesn't matter when people married, the pictures all look the same. People in 1920s wedding snaps look pretty similar to people who were married last weekend. Even in the 1960s everyone looked vaguely normal. But it went badly wrong in the 1970s. The men wore velvet jackets that featured lapels like a fighter jet's wings. There were Lionels (Lionel Blairs — flares) and the haircuts were fantastic. It was the decade that taste forgot.
There was that problem with the cars too. Though the Ford Capri first appeared in the 1960s, it is perceived now to be as much a part of the 1970s as Radar Love, centre partings and bolshie trade unionists. It was a huge success for Ford, though. It was in effect a Cortina in a pretty frock, so it was cheap to make; but because it looked smart, it was priced accordingly. People will always pay more for style.
Then, in the 1980s, some Japanese manufacturers began to show Ford how it should be done. There was the Honda Prelude and the Mazda RX-7 and the Toyota Celica.
To make matters worse, the unlovely Ford was beginning to earn itself an "Essex man" tag, making it not only technically backward but socially wrong as well.
By 1984 sales on the Continent had dwindled to a trickle, and even in Britain it was something of a joke. Ford disconnected the life-support machine, and it died.
You know how it is with nostalgia, though. Here we are, 10 years on, and I have begun to develop fond memories of the sporty-ish Ford. This was the car that took me to parties that are still going on today. This was the car that we'd go rallying in at night. Was I not in the Capri when a champagne bottle wedged itself under the brake pedal, causing the most monumental crash? Oh happy times.
---
1994: the year in cars
 A nine-year-old karter gets an autograph from Ron Dennis, boss of McLaren. He says he wants to drive for McLaren and become F1 champion. His name: Lewis Hamilton.
 Broken teeth and roadside swearing: Britain gets road rage. Service areas offer massages.
---
The Capri, like flares and velvet, looked good at the time. It was cheap to run, too, and there's something comforting about a Ford, isn't there? It's like a good, solid old friend: a bit coarse, perhaps, but always there. Yes, dammit. It's time for the Capri to make a comeback.
Which is a good thing, because that's exactly what it is doing. Now called the Probe, it is an exceptionally good-looking two-door coupé with a hatchback rear end, a giant boot, space in the back for kids and a choice of 2-litre or 2.5-litre engine under the bonnet.
I have just driven the V6 version on a 1,000-mile test run through Arizona and Utah and I like it. Dynamically, a VW Corrado handles better, and a Calibra is faster, but as an all-rounder it's not bad at all. However, the point is that the thirtysomething audience that Ford is aiming for grew up with the Capri and, like me, will have fond memories of it. We are therefore bound to welcome the Probe like a long-lost schoolfriend. If this car were a man, it would be a bloke.
It would not be from Essex, though. In fact, it's from everywhere in the world except Essex. The engine is exactly the same as in a Mazda MX-6. Peel off the body and there is a Mazda MX-6 chassis, although the suspension has been tuned to give what Ford thinks is a European feel. No surprises here, though, because dual-project cars are all the rage. The Ford Maverick was designed and built by Nissan. The Vauxhall Frontera is really an Isuzu Amigo.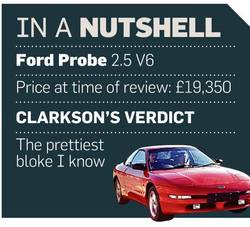 The Rover 600 is a Honda Accord. The Lancia Dedra is a Fiat Tipo. It makes sense for Ford to use Mazda mechanicals because Ford owns 25% of Mazda. It is also built in an old Mazda factory in Flat Rock, Michigan, and, as such, is the first right-hand-drive Ford to come out of America in any number since the Model T of 1910. The styling — its best feature — was done in America. The price, though, is likely to be very British.
By nailing a Ford badge to any coupé, you automatically conjure up visions of the Capri. That is what will make the Probe a success for Ford in the UK. It's a good car, but, even before it is launched, it has a great image.