Skoda Fabia Mk 2 review (2007-2014)
A Czech-built cousin of the VW Polo and Seat Ibiza, the Fabia is a no-nonsense supermini offered as a five-door hatchback and mini-estate.
What is the Skoda Fabia Mk 2?
A Czech-built cousin of the VW Polo and Seat Ibiza, the Fabia is a no-nonsense supermini offered as a five-door hatchback and mini-estate. In addition there's a higher-riding version known as the Fabia Scout, which despite looking like an SUV, only has front-wheel drive.
The Fabia is not the sportiest car around, nor is it the prettiest or most exciting, but it is practical, dependable and very sensible – hence its popularity second-hand – though it's not as cheap as you might expect.
---
Search for and buy a used Skoda Fabia on driving.co.uk)
---
Second-generation models from 2007 were initially offered with 1.2-litre 6-valve (60bhp), 1.2-litre 12-valve (68bhp), 1.4-litre (85bhp) and 1.6-litre (105bhp) petrol engines, as well as 1.4-litre TDI PD (70bhp and 80bhp) diesel motors and a 1.9-litre TDI PD (105bhp). In a 2010 facelift, though, a turbocharged 1.2-litre TSI (105bhp) and a 1.6-litre TDI CR diesel (90bhp and 105bhp) superseded earlier engines of the nearest specification. The 1.2 TSI came with the highly desirable option of a DSG dual-clutch automatic gearbox and was subsequently followed by the sporty 1.4 TFSI vRS (180bhp), also with DSG.
Economy-optimised GreenLine diesel models have since been added, powered by a 73bhp 1.2-litre TDI CR engine and capable of an astonishing 83.1mpg and 89g/km of CO2 in the hatchback, so qualifying for zero-rated Band A road tax. Most Fabias (but not the vRS!) are in low insurance groups.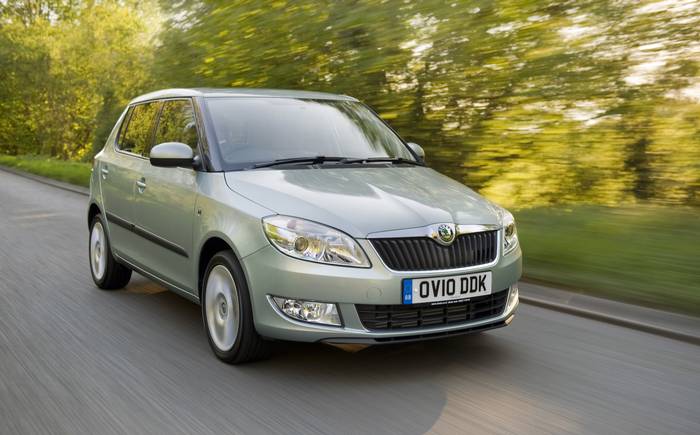 There are many low-mileage 1.2-litre models around to choose from, but the 68bhp 12-valve has far more acceptable performance than the 6-valve, but don't bother with either if you do much motorway driving, and opt instead for a 1.4 or 1.6. The diesels are strong but a little noisy and more expensive to buy, and unless you do a particularly high mileage it'll be a very long time before they start saving you any money on running costs.
The Fabia is so easy to drive that it's popular with driving schools and new or nervous motorists. Its major controls are well positioned and uncomplicated, the driver's outward view through the large, flat windows to each clearly defined corner is good, and a well thought-out driving position instils confidence. These virtues are complemented by accurate steering, suspension that produces entirely predictable cornering behaviour, and a relaxing, well-controlled ride – though with a little bit of body roll through the bends. The Fabia Sport, which wears a body kit to make it look less ordinary, is something of a contradiction in terms, but the special-edition Monte Carlo model looks really nice with its black roof, black gloss trim and larger alloy wheels.
A roomy cabin and a big boot complete the picture. Equipment levels are quite varied, though, entry-level cars lacking air-conditioning and stability control, and only top-end versions receiving curtain airbags. Incidentally, the Fabia's score of four stars in EuroNCAP crash testing, though good, means it trails quite a few of its rivals for inherent safety.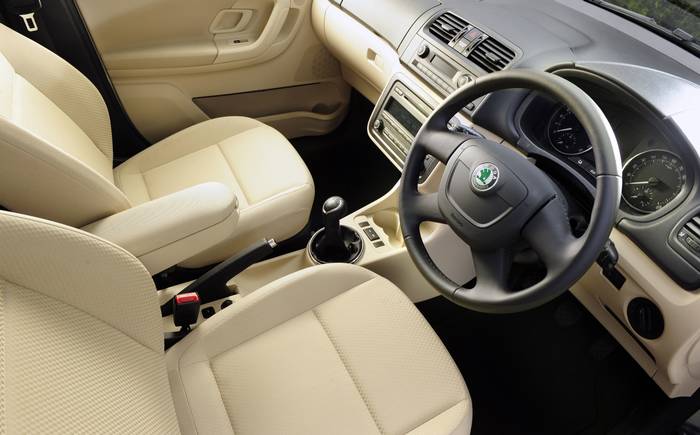 It's always worth spending a bit more on a used Fabia to acquire a decent level of kit, though with one caveat: in spite of Skodas great and small for so long having been the butt of jokes, these days a Fabia is unlikely to save you much money over a VW Polo.
What to look out for when buying a used Skoda Fabia Mk 2
The Fabia is generally solidly screwed together in its Czechoslovakian factory but has never been immune to some of the wider Volkswagen Group problems. There are reports of issues with the stability control system, excessive oil consumption with the TSI engine, manual-gearbox glitches, water leaks and a number of electrical and electronics issues. Owners have also complained about loose interior trim, wind noise and rattles and vibrations, as well as sooting-up of diesel particulate filters (mainly on GreenLine models, which don't appear to cope well with short-distance, low-speed use), plus clunking noises from the DSG transmission.
However, the Fabia scores well in reliability and customer-satisfaction surveys, not least because Skoda dealers are rated highly for helpfulness. The Fabia came joint-second in the supermini class in the 2012 JD Power survey, and 32nd overall, although it only managed 54th place in the Warranty Direct Top 100 index.
The one to buy
Fabia 1.2 12v "2"
Factfile
Engine:

1198cc, three cylinders

Power:

68bhp @ 5400rpm

Torque:

82 lb ft @ 3000rpm

Transmission:

5-speed manual

Acceleration:

0-62mph in 14.9sec

Top Speed:

101mph

Fuel

51.4mpg (combined)

CO2:

128g/km

Road Tax Band:

D 

Dimensions:

L 4000mm, W 1642mm, H 1498mm
Skoda Fabia rivals