Kia Cee'd review (2012-on)
Frugal Cee'd comes of age
Tempting prices, high equipment levels and enticements such as seven-year warranties are usually offered on cars that have something to hide. But that doesn't apply to the latest Kia Cee'd (launched 2012), or to most of the Korean company's products; this rival to the Ford Focus and Vauxhall Astra is a thoroughly modern and competitive hatchback in a segment rich with alternatives.
---
Search for and buy a used Kia Cee'd
---
It offers much the same engine range as its rivals, including 1.4 and 1.6 units in petrol and diesel formats, with a manual, an automatic and a fashionable dual-clutch paddle-shift gearbox. The Cee'd, a product of Kia's Frankfurt design studio, also enjoys sophisticated suspension of the type featured on the Ford Focus and VW Golf. For the most part this hatchback delivers, but there are flaws.
The drive
Best of the Cee'd quartet of engines by far is the 1.6 CRDi diesel, an impressively smooth-running motor that pulls with vigour and provides relaxed motorway cruising. The petrol engines, by contrast, sound strained and need to be worked hard to deliver comparable go. The Cee'd has a suspension layout as sophisticated as those of its European rivals, but the final tuning delivers a ride that's  sometimes too turbulent and a front end that occasionally bobs over bumps like a dinghy in a light chop. The steering feels weirdly weighty as you swivel it away from its centre point, too. If all this sounds unfortunate, fear not — the Cee'd is entirely livable with. It's just that the standards in this class are now so high, these nits need to be picked.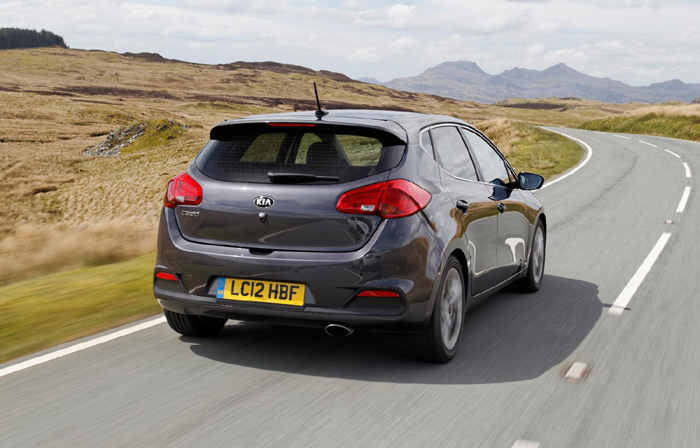 Positives include an excellent multi-adjustable driving position, a good manual gearchange (the automatic is a bit slothful, the dual-clutch a better self-shifter but available only in the inferior petrol 1.6) and the promise of frugal fuel consumption.
The cabin
The Cee'd plays much stronger cards here. There's more space inside than most rivals offer — in part because the Cee'd is bigger than most of them — the cabin furnishings are to a high standard and the driver faces an appealingly styled and well-laid-out dashboard. It's all the more attractive in the high-end models, whose upgraded instruments provide a high-definition clarity that makes them a pleasure to survey. The Cee'd offers a bigger-than-average boot as well as reasonable space for five, and with the seats down it makes an impressive load-carrier. The standard equipment of the basic model, called 1, is good enough that there's little need to spend more: air-conditioning, electric front windows, an iPod-compatible stereo and Bluetooth connectivity are all included.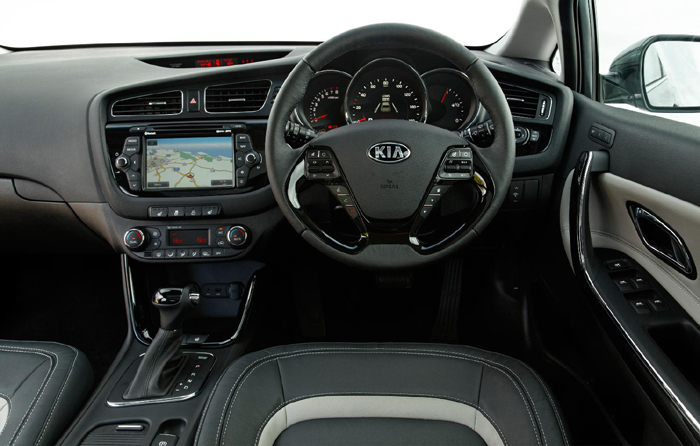 With more polished suspension and better petrol engines the Cee'd would make a fine buy in this class. As it is, the 1.6 diesel is worth considering, especially if space, style and equipment are your priorities.
What to look out for when buying a used Kia Cee'd
Indications are that a used Kia Cee'd is likely to give a trouble-free ownership experience – owner complaints are almost unheard-of, no doubt helped by the seven-year warranty. On that score, we suggest you look carefully at the service history, because failing to keep a car properly maintained and serviced to schedule will invalidate the warranty.
Additional reporting by Jason Dawe
The one to buy
Kia Cee'd 1.6 CRDi 1
Specifications
Price:

£16,295

Engine:

1582cc, 4 cylinders

Power:

126bhp @ 4000rpm

Torque:

191 lb ft @ 1900rpm

Transmission:

6-speed manual

Acceleration:

0-60mph in 11.5sec

Top speed:

122mph

Fuel:

76.3mpg (combined)

CO2:

97g/km

Road tax band:

A

Dimensions:

L 4310mm, W 1780mm, H 1470mm
Kia Cee'd rivals
Ford Focus (click here for used prices on driving.co.uk)
Nissan Qashqai (click here for used prices on driving.co.uk)
Volkswagen Golf (click here for used prices on driving.co.uk)