First Drive review: Volkswagen Passat GTE
The perfect family car - if you do a 20 mile daily commute
Volkswagen Passat GTE at a glance
Handling: ★★★☆☆
Performance: ★★★☆☆
Design: ★★★☆☆
Interior: ★★★★☆
Practicality: ★★★★☆
Costs: ★★★★☆
---
Volkswagen Passage GTE £35,000 (estimate, after plug-in car grant)
The popularity of plug-in hybrids is set to explode. Volkswagen reckons that sales will quadruple by 2018, to 893,000 cars a year. By 2022, 3.3m of the things will be trailing wires to domestic electricity sockets (or, perhaps, charging via wireless induction points) in homes across Europe. Every big manufacturer will soon have a plug-in on the books — and not just to turn a quick profit. The technology is vital for car makers looking to hit the targets of ever more stringent CO2 regulations.
The beauty of a plug-in hybrid is that it offers the convenience of a combustion engine and the clean credentials  of an electric model. The two can work independently of one another, or together when you need to get a move on.
Because they achieve such impressive fuel economy and emit small amounts of CO2 — on paper, at least — they are highly attractive to company car drivers who want to lower their tax bills. And private car buyers are drawn to the promise of astonishing economy: in the case of the new Passat GTE, that promise is 166mpg.
Under the surface the Passat GTE shares much of the Golf's technology. 'Brid watchers get  a few clues: a discreet badge on the boot, a blue stripe across the front and groovy C-shaped daylight running LEDs. If you look even closer, you will see the brake callipers are also blue. In case you haven't worked it out, blue is the official colour for VW's electric dream.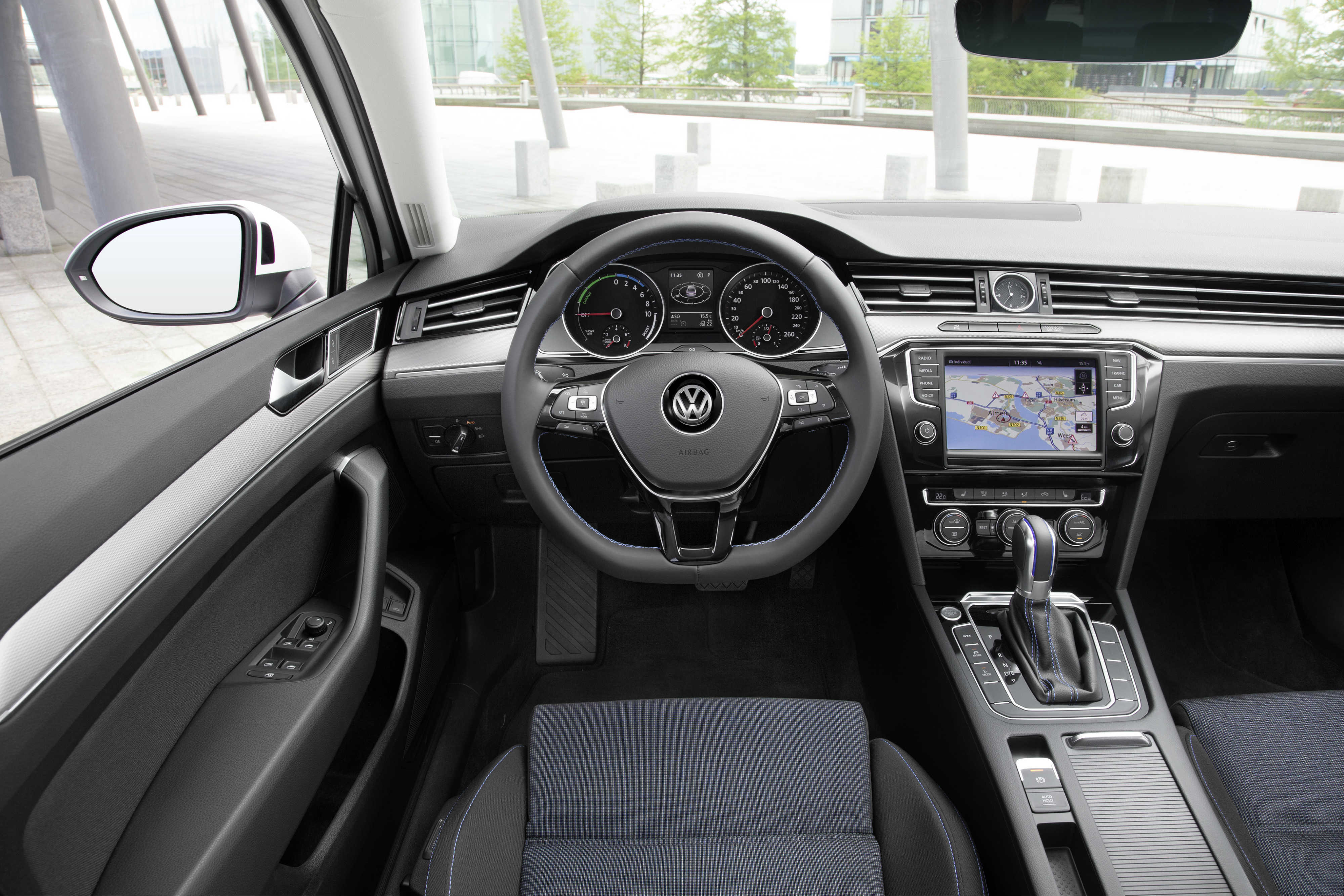 For those not  up on the technology, a plug-in hybrid has bigger batteries than a standard  hybrid, which greatly increases its range in pure electric mode. The Passat GTE can travel 31 miles on battery power alone  at speeds up to 81mph.
It combines a 113bhp electric motor with VW's 154bhp 1.4-litre four-cylinder petrol engine for a combined output of 215bhp. That's an impressive wodge of power, and VW claims the estate GTE will hustle to 62mph in just 7.6 seconds – the GTE label is meant to give the Passat a little frisson of GTI performance.
Inside, the plug-in cues continue, with blue stitching on the steering wheel, gearshift gaiter and upholstery. But the real giveaway is the instrument cluster, which features a comically small revcounter sitting low on the main dial; in place of a typically large rev counter, there is a Power Meter, which shows when the battery is being recharged by regenerative braking, or when it's using power. There's also a readout showing the remaining driving range on battery power alone, and one that shows you which operating mode the powertrain is in.
Otherwise, the interior is pure Passat, which means a great driving position and a sense of good quality about the materials and standard of fit and finish. In its most basic trim (£35,000 after the Plug-in Car Grant), the GTE is well equipped, with standard fit Adaptive Cruise Control, City Emergency Braking, sat nav, Bluetooth and parking sensors.

The GTE offers four different driving modes: E-mode is pure electric running; Hybrid lets the electric motor and petrol engine work together depending on demand, Battery Charge allows the driver to conserve battery energy so that it can be used later in the journey and GTE mode teams the electric motor and petrol engine for maximum performance.
With all those modes to choose from, plus a menu of settings that alter the stiffness of the suspension, anyone would be forgiven for thinking that they'll need a private pilot's licence to drive the thing. Worry not: you can get in and drive the GTE as you would any other car, without a thought about its hybriddy bits.
If you just get in and drive away, the default mode is always E-mode, offering silent running on battery power. And if you leave all of the mode buttons alone, the car will look after itself, staying in E-mode unless you want a big burst of acceleration, at which point the petrol engine will join in. Ease off and the car will go back to pure electric until the battery gets low, at which point the car will go into full hybrid mode.
I drove the Passat GTE on a mix of city roads and main roads. In town, the impressive, instantly delivered torque (or pulling power) of the electric motor slingshots the car into traffic gaps – you have to seriously provoke the petrol engine to wake it up – yet it is an utterly vibration and noise free experience.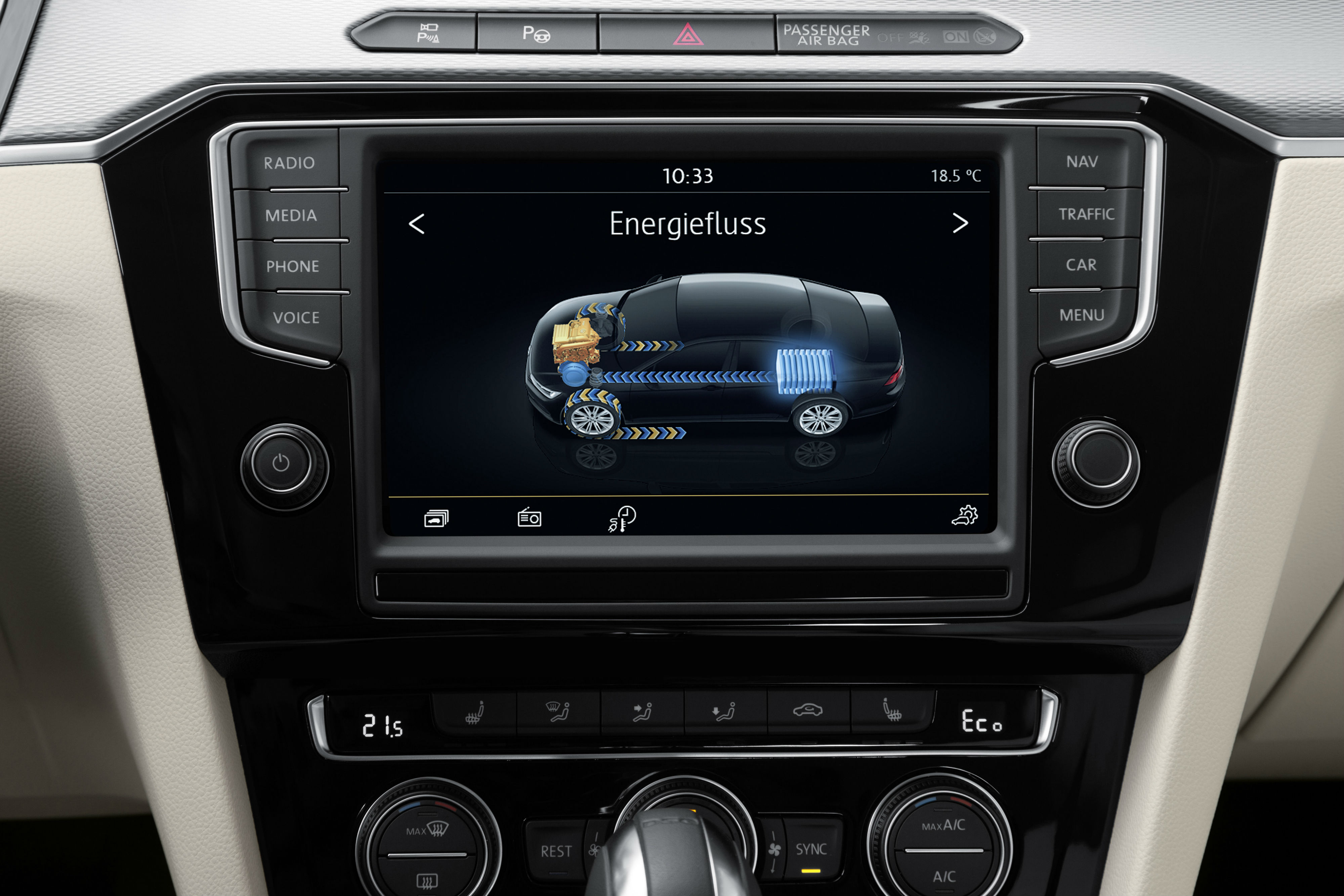 It's on the motorway that things get slightly surreal. I ran up to near the maximum speed of 81mph in E-mode and the only thing I could hear was a distant hiss of tyre on tarmac and a tiny little rustle of wind around the A-pillar. I'd guess that it's quieter than a Rolls Royce Phantom.
The ride quality is also remarkably good, with bumps and ridges smoothed away (although to be fair, this was on Dutch roads, which aren't nearly as beaten up as Britain's broken roads). And even though the hybrid is considerably heavier than it's equivalent diesel sibling, the handling is tolerably good. You only notice the extra weight in fast left/right manoevres where the Passat GTE can sometimes lurch.
As always, whether this or any other plug-in hybrid will work for car buyers is entirely dependent on what sort of driving they typically undertake. And whether, on a practical level, you have easy access to a recharging point or domestic socket. It's more important than ever to crunch the numbers on the potential savings for fuel and tax bills, versus the increased cost of the car over an equivalent diesel-powered model.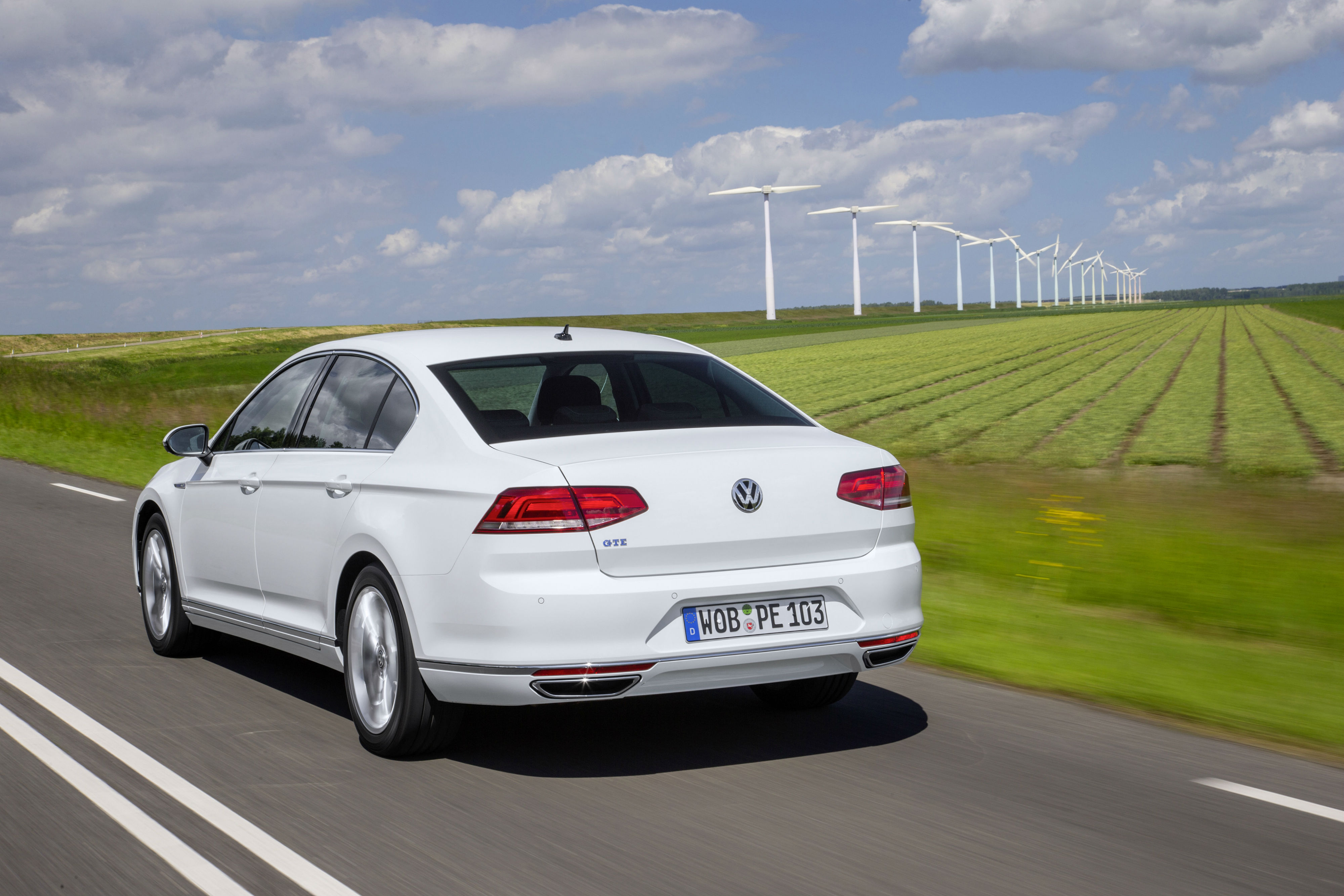 Spend a lot of time bashing up and down a motorway? You won't get anywhere remotely near the claimed 166mpg combined mileage. But for those who cover a mix of urban and open roads (which will be a lot of us), the Passat GTE could be a pretty neat option. And for the record, it takes just over four hours for a full charge on a household socket.
If, for example, you've got a daily commute of around 20 miles, you could burn no fuel at all in the course of a working week. Volkswagen is so convinced that this will be the case for so many Passat GTE buyers that they've treated critical engine components with a polymer coating. The petrol engine will even turn itself over occasionally to keep the oily bits oily.
So yes, if you do the right kind of miles, this Passat is rather a good thing. Little wonder VW expects plug-in hybrids to catch on.
2016 Volkswagen Passat GTE specifications
Engine: 1398cc, four-cylinder turbo petrol, additional electric motor
Power: 215bhp (total system output)
Torque: 295 lb ft (total system output)
Transmission: 6-speed automatic, front-wheel drive
Performance: 0-62mph: 7.6sec
Top speed: 140mph
Fuel: 166mpg
CO2: 44g/km
Road tax band: A (free)
Price: £35,000 (estimate, after plug-in grant)
Release date: October 2015
Volkswagen Passat GTE rivals
BMW 3-Series Plug-In hybrid, £32,000 (est)
For Looking set to be the best 'drivers' plug-in hybrid saloon
Against Not on sale until the end of the year at the earliest
Audi A3 Sportback e-tron, £34,950
For The materials, quality and aesthetics of the interior are still top of the class
Against Looks dated, hard to achieve claimed fuel economy