First drive review: Toyota Rav4 Mk 4 (2013)
World's first compact SUV grows up, and catches up
---
Published 22 February 2013
BACK IN 1994 Toyota introduced a new type of car to the world. The Rav4 was the first compact SUV. Looking a bit like a proper off-road vehicle, only smaller and less good at actually going off road, it quickly became known as a "soft roader".
A few critics argued that nobody would want a car that was neither one thing nor the other. "If you want a 4×4, you get one, and if you want a town car, you buy a Golf," they said. To their surprise, the public disagreed. They loved the high-up driving position, the versatility and the fact that it could cope with the occasional snowfall, not to mention Britain's pot-holed roads.
As a result, the compact SUV market exploded so that today, just about every manufacturer is now in on the game. Competing directly with the Rav4 is the Ford Kuga, Honda CRV, Nissan Qashqai, Mazda CX5 and VW Tiguan. It's a market that's still growing – by 18% between 2008 and 2012, according to Toyota.
---
 Search for and buy a used Toyota Rav4 on driving.co.uk
---
The bad news for the company that pioneered the idea is that despite three updates to the Rav4, other car makers have pulled out a market lead. So here's Toyota's big fightback-mobile – the all-new, fourth generation 2013 Toyota Rav4.
At first glance it has a sharper look, one that brings the car nicely up-to-date although in a typically conservative way. Evolution rather than revolution.
Get behind the wheel and there's some immediate good news – the driving position has been comprehensively revised with a more adjustable seat than in the third-generation car plus, to quote Toyota, "20mm added to the cushion contact area and a two-degree increase in cushion angle". Sounds like mumbo-jumbo but it works – it's an instantly comfortable and satisfying space.
Sadly, the interior design is less than inspired. The split-level dash may feature new stitched leather trim but the 1980s-style clock and some of the plasticky switchgear leaves a lot to be desired.
Three trim levels are available priced from £22,595 to £29,295. Go for the mid-spec Icon, starting at £24,295 for the two-wheel drive version, and you get dual-zone climate control, cruise control, rain-sensing wipers, 18in wheels and a touchscreen infotainment system with DAB. Toyota expects 60% of buyers to go for the Icon.
Whichever trim level you opt for, the fourth-generation Rav4 is quite a lot larger than its predecessor. Toyota says that the model has some of the best brand loyalty figures of any of its cars, which means that the young folk who bought the funky Mk1 Rav4 are still fans. As they have grown up, settled down and had children, so the Rav4 has grown up to meet the expanding needs of its customers.
The young folk who bought the funky Mk1 Rav4 are still fans. As they have grown up, settled down and had children, so the Rav4 has grown up to meet their expanding needs.
As a result, the new Rav4 is 205mm longer (4,570mm), 30mm wider (1,845mm) and has an extra 100mm in the wheelbase (the distance between the centres of the front and rear wheels). This contributes to more interior space, akin, says Toyota, to vehicles in the larger SUV segment above. Certainly there's a good amount of room in the back and two adults can sit comfortably behind two taller adults in the front. There's more loadspace, too – a maximum of 1,746 litres – and the boot sill is lower and wider with a top-hinged boot lid (electrically operated should you desire) enabling easier loading.
Which is all good news for fans of practicality but Toyota says its Rav4 customers still want an agile, fun car to drive. With this in mind, the engineers made the car lighter and more rigid, and the all-wheel drive models (front-wheel drive versions are available) have an all-new torque distribution system called Integrated Dynamic Drive. This feeds up to 50% of the power to the rear wheels, should the front end lose grip during cornering. It's a great innovation that sharpens the handling, inspiring confidence as you feed more power to the wheels through corners.
On the road the new Rav4 feels nimble and eager. The automatic transmission with steering wheel-mounted paddles is an absolute gem, blipping the throttle on downshifts to ensure a smooth transition and flicking from one ratio to the next with amazing speed. It's a 'box with a brain as, according to Toyota, it uses artificial intelligence to automatically change shift patterns based on your driving and the road conditions. Such a transmission used to be the preserve of luxury sports cars.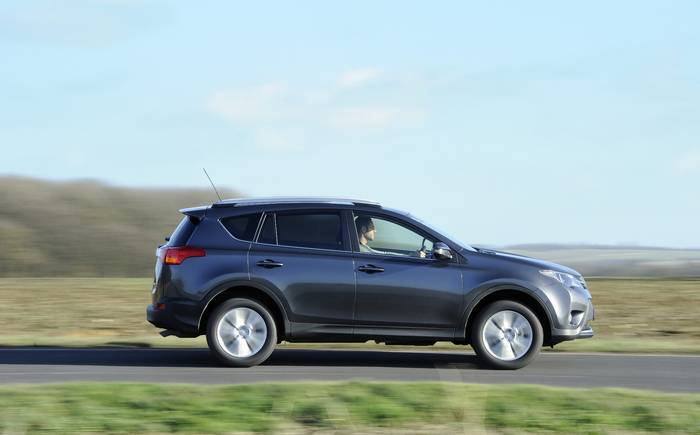 In case you're wondering what the new Toyota Rav4 is like off road (and there may be a few of you out there… somewhere other than Chelsea), it was difficult to judge the car's mud-plugging prowess as our allocated off-road test route consisted of nothing more than a rutted farm track. Neither diff lock nor hill descent control were required as the car handled it all easily. It's probably safe to say, however, that the fourth generation will be at least as good as the previous vehicle on the rough stuff – and that was surprisingly capable.
It's not all good news. Both the 148bhp 2.2-litre D-4D and the new 122bhp 2-litre D-4D diesel engines are London cab-like noisy, despite Toyota claiming it has smoothed and quietened things down with "scissor-drive, twin-axle balance shafts", a new resin cylinder head cover and a new engine bay barrier. You're going to need a bigger barrier, lads. The diesel engine isn't the best for CO2 figures and maximum torque is delivered in a fairly narrow rev band, making it a fairly flat experience.
Up to 50% of the power is distributed to the rear wheels, should the front end lose grip during cornering. It's a great innovation that sharpens the handling.
There is a petrol option – a 2-litre Valvematic producing 149bhp, available only with all-wheel drive and featuring continually variable transmission rather than a standard gearbox – but Toyota did not offer one to try and says it expects only a small percentage of buyers will opt for it.
All things considered, it looks like Toyota has done enough to bring it back into contention in the compact SUV stakes, but it hasn't outdone itself on style and comfort. To be fair, it's not chasing Land Rover, BMW or Audi in the SUV market; it'll leave that to sister company Lexus. But it has produced a car that is capable off-road (probably), decent fun on tarmac, packed with technology and versatile enough for the evolving Rav4 owner. Consider the boxes ticked.
Verdict

★★★☆☆
Brings the Rav4 back to where it should be among rivals.
The one to buy
2013 Toyota Rav4 2.2 D-4D Icon AWD Automatic specifications
Release date:

On sale now, deliveries from March

Price:

£27,595

Engine:

2,231cc, 4-cylinder diesel

Power:

148bhp @ 3,600rpm

Torque:

251 lb ft @ 2,000-2,800rpm

Transmission:

6-speed auto

Acceleration:

0-62mph in 10.0sec

Top speed:

115mph

Fuel:

42.2mpg combined

CO2:

176g/km

Road tax band:

I 

Dimensions:

L 4,570mm, W 1,845mm, H 1,660mm
---
 Search for an buy a used Toyota Rav4 on driving.co.uk
---