First drive review: Skoda Rapid Spaceback 1.6 TDI S DSG (2013)
A good car, Skoda… but is there a point?
Not so, say the Skoda marketing team. They explain that in the UK we really, really don't like our compact cars with notchbacks or tacked-on boots. And to drive that point home, Skoda reckons that it will shift 8,000 Spacebacks next year, compared with just 4,000 notchback Rapids.
It's not hard to see where we get our hatch-love from, either. In the flesh, the Spaceback has a much more balanced proportion about it compared with the rather lumpen notchback Rapid.
---
Search for and buy a quality used Skoda Rapid on driving.co.uk
---
Like its sibling, the Spaceback will slip neatly into the gap between little sister Fabia and bigger (shortly to get even bigger) brother Octavia.  It'll do battle in the hard-fought compact hatch market that includes other value-pack contenders such as  the Kia Cee'd and Hyundai i30, or the more mainstream Ford Focus.
With this stylish hatchback Skoda is also chasing that other motor industry holy grail, which is "younger buyers". On the face of it, you'd have to ask "are their pounds worth more than older buyers'?". The marketing people just shrug and point out that younger buyers trade up, hopefully to bigger and more expensive Skodas. Older buyers just get bus passes. Or Honda Jazzes.
Beyond the snazzier styling, the Spaceback offers a big dash of practicality for those young families Skoda is so keen on. First of all, there's that hatch opening with its low load lip and optional double floor, which means you can divide the cargo bay into two horizontal levels. And the cargo bay itself is very generous, with considerably more space than the Kia Cee'd or Ford Focus. But the most impressive thing is how much space there is in the cabin for adults. I'm 6ft 2in and with the driver's seat set to my ideal position, I found that in the back seat there was still a huge amount of leg and headroom, almost Mondeo-class levels of it.
The front cabin is equally impressive. When deciding on a Skoda, you might be temped to think, "Darn: couldn't afford a Golf", but when you climb aboard the Spaceback that sentiment dissolves. This feels like a classy cabin, even in lower spec. With the higher trim levels – they go from S, to SE and Elegance – the experience is definitely Golf-ish. Sporting chrome bits around the major controls and lovely aluminium or body-coloured panels across the dash, the Spaceback manages to feel expensive.
Which, at the higher end, it is. The most expensive Elegance version is the 1.6 TDI Green Tech, which tops out at £18,640. If you add the Panoramic roof, which looks quite groovy and creates a marvellously light ambience inside, you'll add another £1,200 or so to the price. And that brings your total to just shy of £20,000, which isn't cheap however you slice it. But for the record, the Spaceback starts at £14,340 for the 1.2 TSI S.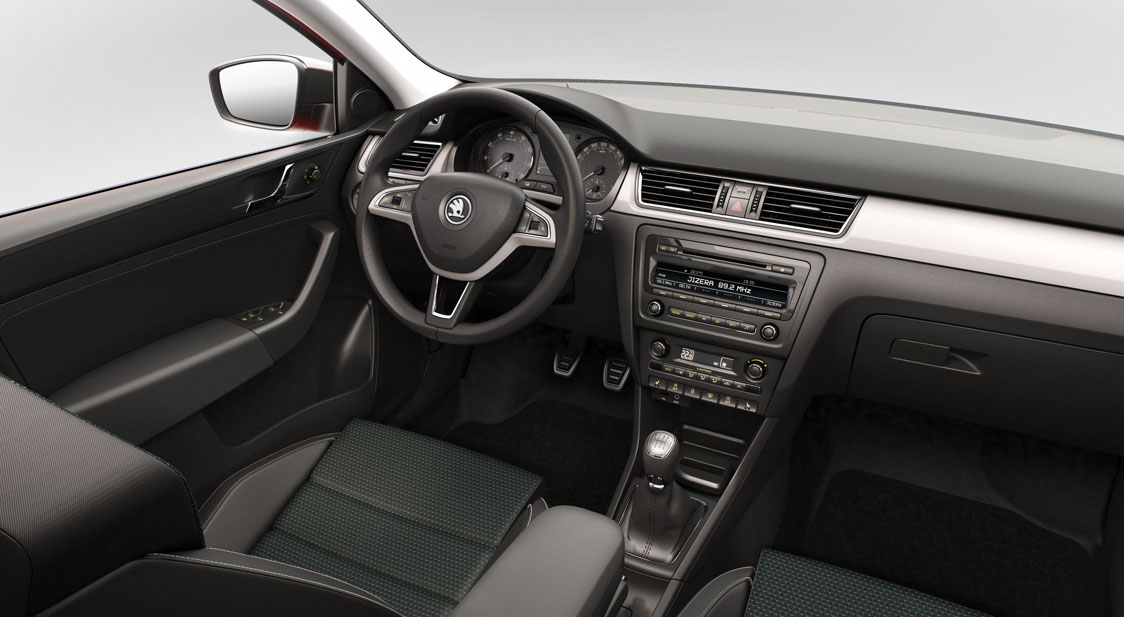 To be fair to Skoda, the well equipped Spaceback is always going to look like a bargain compared to a similarly equipped Golf, for example. And while it will never be able to match the VW for a feelsome and rewarding driving experience, it's pretty good. The engines on offer start with an 85bhp 1.2-litre petrol and rise to the most powerful in the range, the 120bhp 1.4-litre petrol. There are two diesels to pick from, both 1.6-litre with 89bhp and 104bhp respectively. Skoda expects the 89bhp diesel to be its biggest selling Spaceback.
So that's the one we focused on. When you crank it into life, you get a gravelly rattle that leaves you in no about this 1.6's dieselness. Moving away from a standstill, the Spaceback initially feels reasonably responsive but the seven-speed DSG gearbox's eagerness (in automatic mode) to select a higher gear makes progress quite dull-witted. Slip the box into sport mode and the shift points become more sensible, but it's frustrating that the 'box doesn't select the gear you'd ideally want to be in. The payback is at the pumps, where this engine returns 64.2mpg overall. Emissions are also tax friendly at 114g/km.
Ultimately, though, the only thing that recommends this engine over its more-powerful 1.6 104bhp sibling is the car's marginally lower entry price (£16,140 vs £16,790). The 104bhp engine also boasts identical fuel consumption and emission figures to its less powerful brother. And even though the power increase isn't great, the 104bhp engine delivers much more sparkling performance, especially with its five-speed manual gearbox in play.
The way this car goes down the road is perfectly in keeping with its mission as a practical, functional machine to live with. Sure, you'll never get up early to go for a blast just for the hell of it, but the smooth, compliant ride and accurate (but quite light) new electric steering will undoubtedly make this Skoda quite an easy thing to live with.
In the end, the Spaceback is the more appealing of the two Rapid models on offer. So in losing a notch, it's actually gained a notch (if you see what I mean).
Verdict
★★★☆☆
A good looking, spacious and very well equipped alternative to the Korean brigade
Factfile
Engine:

1598cc, 4 cylinders, diesel

Power:

89bhp @ 3500-4200rpm

Torque:

170 lb ft @ 1500-2000rpm

Transmission:

7-speed DSG auto

Acceleration:

0-62mph in 12.1sec

Top speed:

113mph

Fuel:

64.2mpg (combined

CO2:

114g/km

Road tax band:

C

Dimensions:

L 4304mm, W 1706mm, H 1459mm
The Rivals
---
Kia Cee'd 1 1.4 CRDi, £15,695
For Quality materials and finish that a Kia customer from 10 years ago simply wouldn't recognise Against For many, negative perceptions of the brand are still a decade out of date.
Buy a quality used Kia Cee'd on driving.co.uk
---
Ford Focus Edge 1.6 TDCi, £16895
For Still the king of ride, handling and refinement Against Family users will find the boot quite a bit smaller than the competition here.
Buy a quality used Ford Focus on driving.co.uk
---