First drive review: Skoda Octavia estate (2013)
Not only can this cavernous estate swallow a huge cargo, it is packed with smart devices such as automatic light-dipping that eliminate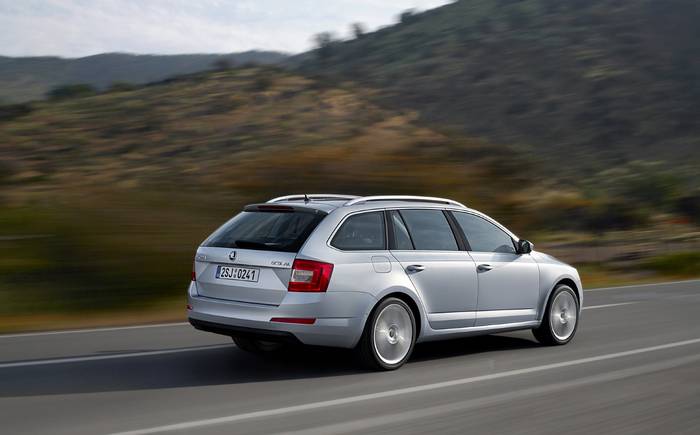 Skoda Octavia 2.0 TDI Elegance £22,790
One still marvels at the transformation of Skoda, under VW's ownership, from rusty communist punchline to plausible brand for our times — sensible, understated without being depressingly austere, yet also quietly maverick and with just a hint of post-Cold War cool. There was a time when you wouldn't have got 10 yards in a Skoda, for all sorts of reasons, some of them relating to social stigma, others to the durability of the product. Yet the previous Octavia was the biggest-selling estate car in Europe.
Now here comes the new version — slightly longer, slightly wider and with a cavernous boot. Seriously cavernous. The estate costs £800 more than the recently launched and gladly received Octavia hatchback.
By great good fortune, the Octavia was with me over one of those exciting weekends that we all live for, when I needed to move two large items of household furniture 60 miles up into Essex to my nephew's house. Shrewdly planning ahead, I went out to prep the car for the arrival of this load by flattening the back seats — availing myself of the neat button in the boot that prevents seat-flattening from becoming a mission involving both rear doors, a half-circuit of the car's exterior and a pair of stout walking shoes.
I needn't have bothered. The boot entirely swallowed that furniture on its own. So I finished loading, sheepishly put the seats back up and drove to Essex. (Incidentally, the front passenger seat drops, too, for occasions when you need to transport those tricky longer items, such as a telegraph pole.)
Odd, though, how, with estate cars, a great deal of effort and ingenuity is poured into finding ways to use the passenger space for clobber in the absence of passengers. Yet very little energy is devoted to coming up with ways to use the clobber space for passengers in the absence of clobber. It's especially a pity in this case because, fitted with a set of fairy lights and some swivelling rear seats that extend to become a banquette, the Octavia could quite easily function as a stretch limo.
---
Search for and buy a used Skoda Octavia on driving.co.uk
---
Still, the clever, double-layer boot floor is perfect, Skoda emphasises, for the separate carriage of breakable objects, but potentially handy also, one notes, for drug smuggling. Customs officers will be too busy stripping out the exhaust pipe to think of looking there. The top floor layer aligns flush with the boot opening (now nearly a centimetre wider and taller), meaning you can slide stuff in and out smoothly and significantly lower the odds on trapping your fingers between the floor and, say, any large household items you may wish to deliver to your nephew in Essex.
Some funky new C-shaped rear lights and a bit of chiselling to the tailgate bravely downplay the traditional resemblance of the breed to a container ship. "We look for the combination of light and shadow that attracts not only the brain but especially the heart," says Jozef Kaban, Skoda's chief designer. Well, good luck with that, Jozef, but in the meantime some of us have got furniture to deliver, and, really, as long as it all fits in and the axles don't snap, our hearts and our brains are both going to be happy.
Not that we'll turn up our noses at a bit of high-end electrical nannying, if it's on offer, which it is. Among other things, you get a fatigue detection system that notices you drifting across motorway lanes and politely advises you to pay attention. And there's an Intelligent Light Assistant that can take over the dipping and undipping of your headlights in response to oncoming cars — one of those chores (unlike, say, braking ahead of a crash) that one is perfectly and uncomplicatedly happy to hand over to the car.
But better than all of these gifts, surely, is the built-in ice scraper behind the fuel filler flap. An ice scraper's ability to disappear inside any car in which it is left is a mystery at least as baffling as the more studied phenomenon of socks lost in washing machines. Skoda's solution means you'll never again have to ruin your credit card or your nails in the frost. Then again, maybe you'll go out there one cold morning and open the flap and the scraper won't be there. You wouldn't put it past ice scrapers.
I had the 2-litre diesel, which was quiet, powerful, almost disdainful in the casual manner in which it pulled along its loaded boot. At no point between London and Chelmsford did I particularly lament the absence of all-wheel drive — not even on the long, slow climb out of the Dartford tunnel — though, if your nephew lives a good league hence, over by yon forest fence, or similar, a 4×4 Octavia estate is newly available.
The engine range also includes 1.2 and 1.4-litre petrol units, and a 1.6 diesel, which might possibly struggle with a full load of furniture and an ice scraper. All of these versions, though, achieve feats of economical consumption that would have seemed fantastical as recently as a decade ago. Hilariously, when the Greenline diesel version arrives later in the year, it will allegedly be capable of 83mpg at the expense of just 87g/km of CO2, bringing this enormous lump of estate car tantalisingly close to that magical sweet spot where the consumption figure overtakes the emissions figure.
The car's biggest rival may be the soon-to-come VW Golf estate, which will be built on the same platform. But we already know that the Golf will cost more than the Octavia and it's hard to imagine its boot will be any bigger without requiring council planning permission in each individual case, so VW might as well stop production now. Personally, I can't see why anyone would want to take furniture to Essex in anything else.
Verdict
★★★★☆
An estate worth inheriting
Skoda Octavia 2.0 TDI Elegance estate specifications
Price: £22,790
Engine: 1968cc, 4-cylinder, diesel
Power: 148bhp @ 3500rpm
Torque: 236 lb ft @ 1750rpm
Transmission: 6-speed manual
Acceleration: 0-62mph: 8.6sec
Top speed: 134mphFuel:67.3mpg
CO2: 110g/km
Road tax band: B
Dimensions: L 4659mm, W 1814mm, H 1465mm
The Rivals
---
Ford Mondeo Edge 2.0 TDCi Powershift, £23,055
For Spacious cabin; 537-litre boot; impressive driving experience Against Replacement model will go on sale next year, which could impact on value of this one
Search for and buy a Ford Mondeo on driving.co.uk
---
Mazda6 Tourer SE-L diesel auto, £24,545
For Spacious cabin with good-quality fittings; 522-litre boot; impressive diesel engine Against Expensive compared with Skoda
Search for and buy a Mazda6 on driving.co.uk
---