First drive review: McLaren 650S (2014)
McLaren has borrowed many elements from the 12C for its new supercar but mercifully the tame driving experience isn't one of them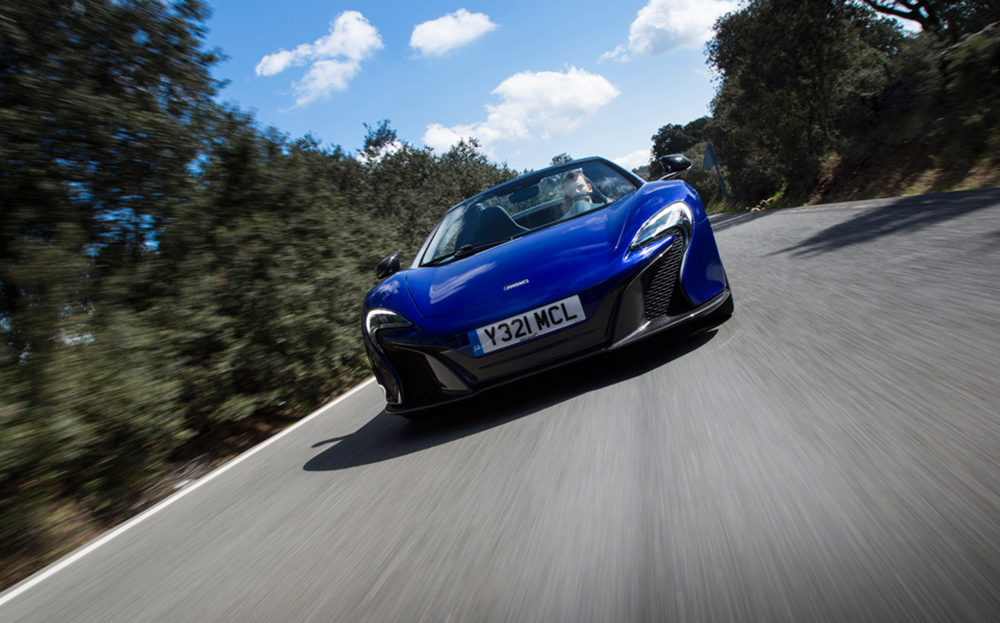 McLaren 650S, £195,250
WHEN MCLAREN launched its F1 supercar in 1992, the intention was to build the world's best sports car, and sure enough, it was unlike any road car ever seen. The engine bay was lined with gold foil to resist the damaging effects of heat on its carbon-reinforced plastic body. The driver's seat was placed in the middle of the car for balance and for the clearest view of the road ahead. The top speed was 231mph and it could accelerate from standstill to 124mph in just 9.4 seconds.
All this came at a price — £540,000 to be precise, at a time when a Ferrari 456 GT cost less than £150,000. Its extreme performance and price proved an extravagance too far and barely more than 100 were made.
Now, 22 years later, the F1 is one of the most sought-after supercars. Values have climbed almost 10-fold, and the car's speed was so far ahead of the chasing pack that even today only a handful of beasts can match it — and one is also built by McLaren.
McLaren Automotive launched in 2011. Its role was simple: use the engineering knowledge gained from cars such as the F1, combine it with the expertise acquired in Formula One, then design and build a range of road cars to take on Ferrari. The first model, the MP4-12C (later to become just the 12C), was launched the same year. It was a good first effort but the driving experience lacked raw thrills and the styling was no great shakes.
Responding to critics, McLaren Automotive has now launched the 650S. At heart it's a 12C, but one that has had a facelift and undergone substantial technical modifications — McLaren says 25% of the parts are new.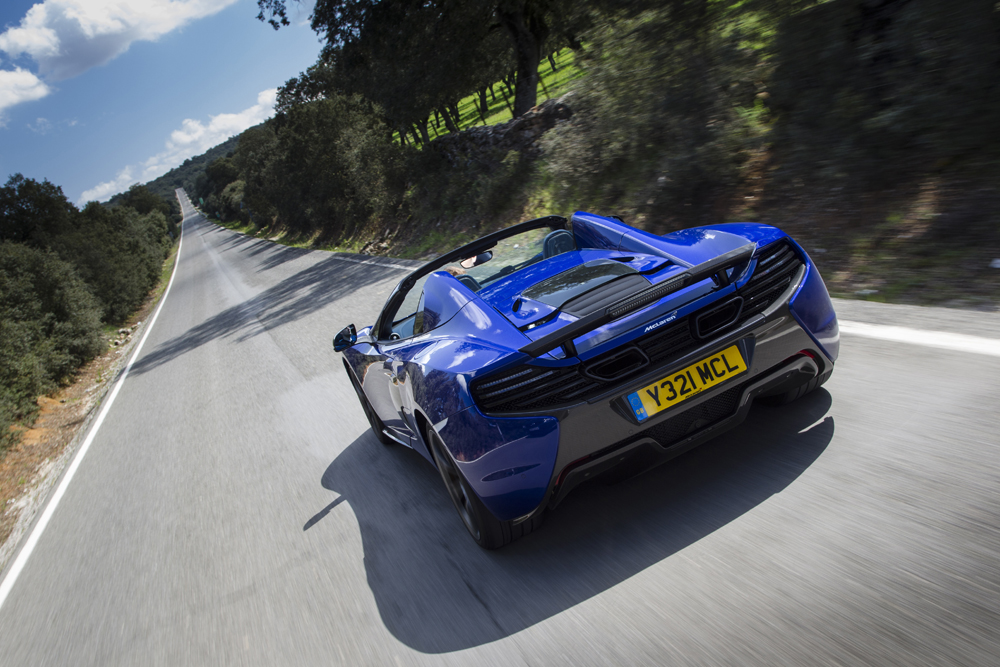 It has the same carbon-fibre tub, the same 3.8-litre twin-turbo V8 engine and the same seven-speed, dual-clutch gearbox as the 12C. The nose resembles that of McLaren's limited-edition P1 hypercar, which sold out in six months despite a £866,000 price, and there are styling changes at the rear, though they're harder to spot.
The main difference is in the way it drives. Chris Goodwin, McLaren's chief test-driver, admits he has spent the past three years trying to make the school swot more of a laugh on a big night out. The 650S has a special "cylinder cut" function, for example, that makes the engine pop and fart when you lift off the throttle. It's pointless and inefficient, but like the whistling of the turbo it adds to the sense of occasion.
The engine has been retuned to produce 641bhp, or 25bhp more than the 12C. That's 45bhp more than a Ferrari 458 Speciale and 39bhp more than the forthcoming Lamborghini Huracan. When it comes to bragging, such things matter to owners of supercars.
Our test route included time at the Ascari circuit in Spain, built by a Dutch billionaire so he could drive his Formula One car in private. Tight and twisty, it's a great place to put the 650S through its paces, and the car performs superbly.
Let's start with speed. It is faster than an F1, accelerating from 0 to 124mph in 8.4 seconds. And with the standard launch control system, even the most hapless of pilots will achieve 0-62mph in three seconds. All they have to do is remember to flick a paddle at the key moment to change up to second gear.
The engine has been retuned to produce 641bhp, or 25bhp more than the 12C. That's 45bhp more than a Ferrari 458 Speciale and 39bhp more than the forthcoming Lamborghini Huracan. When it comes to bragging, such things matter to owners of supercars.
The flappy paddle changes are snappier than in the 12C and acceleration in second and third gears is brutal. Any passenger gets thrown back and forth against the seatbelt by the G-force. Luckily, the carbon-ceramic brakes have the stopping power to match the engine's extraordinary thrust, while the steering and chassis have enough poise and finesse to make you feel heroic. Powersliding a 600bhp supercar has rarely felt this easy.
Goodwin reckons he wanted to develop a car that would thrill Jenson Button on a track without terrifying Hubert the banker. The 650S will indulge mistakes but, of course, all things are relative. This is a 207mph car, and if things go properly wrong, Hubert will still be heading for the crash barrier at a terrifying rate.
Some of the detailing still needs improving. The sat nav is rubbish and the infotainment screen isn't visible on a sunny day. The McLaren badges — on the nose and steering wheel — are also an aberration. Why, if you've spent so much money developing a carbon-fibre chassis, would you employ fake carbon badges made from cheap plastic?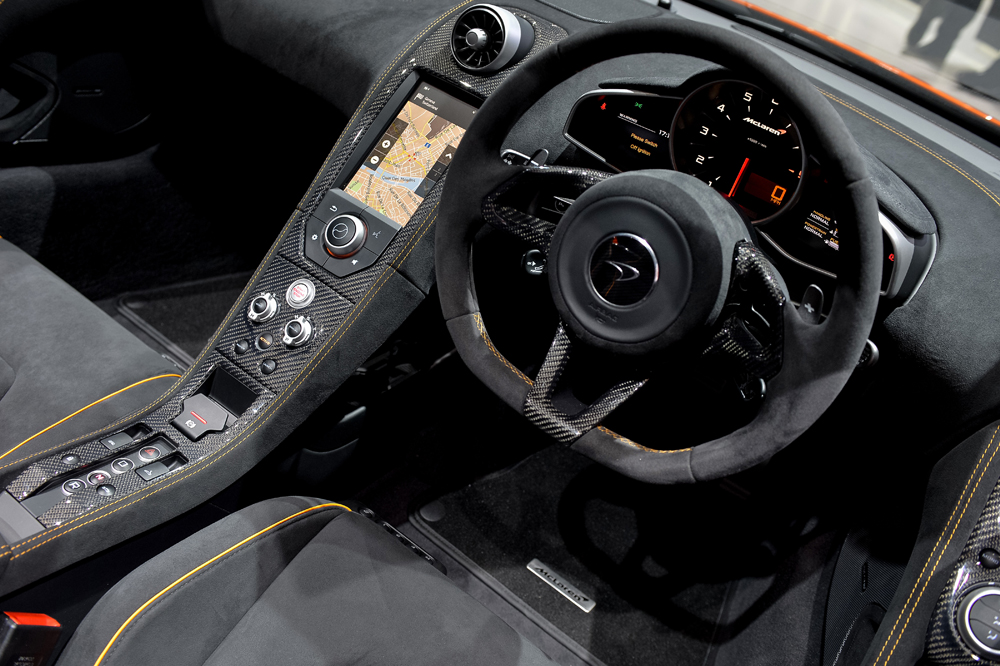 The controversial rear lights, which look like hand-me-downs from a 1980s Ferrari Testarossa, appear untouched from the 12C. Frank Stephenson, the design boss who arrived at McLaren too late to have much influence over the 12C, admits he doesn't like them.
Both coupé and spider versions are on offer. The latter has an electrically folding hard top and (bizarrely) extra luggage capacity for an additional £20,000. To my eyes, the coupé is better looking, but McLaren expects 80% of its customers to go for the drop top.
For all its rich heritage in motor sport, McLaren is still learning its trade as a road car company.
The doors open up rather than out and reveal a cabin that continues to focus on functionality. Apparently anything that detracts from the driving experience is seen as an annoyance at McLaren, so there's just a simple dash, a handful of switches and a screen that looks like an iPhone for the infotainment systems. There's no sign of any being designed con amore, as the Italians would put it.
The 650S costs £195,250 but our test car boasted a plethora of options including a carbon-fibre exterior package (£8,470) and sports exhaust (£4,790). Together, the extras increased the price by £63,160 — more than the cost of an entry-level Jaguar F-type. Yet the company predicts 30% of customers will call on the services of McLaren's Special Operations division, which, for a fee, will develop bespoke goodies not found on the standard options list.
For all its rich heritage in motor sport, McLaren is still learning its trade as a road car company. It's a different world in which technical brilliance is not always enough. The 650S recognises this and while it still doesn't quite match the thrill or bravado of the Ferrari 458, it's now a more convincing alternative.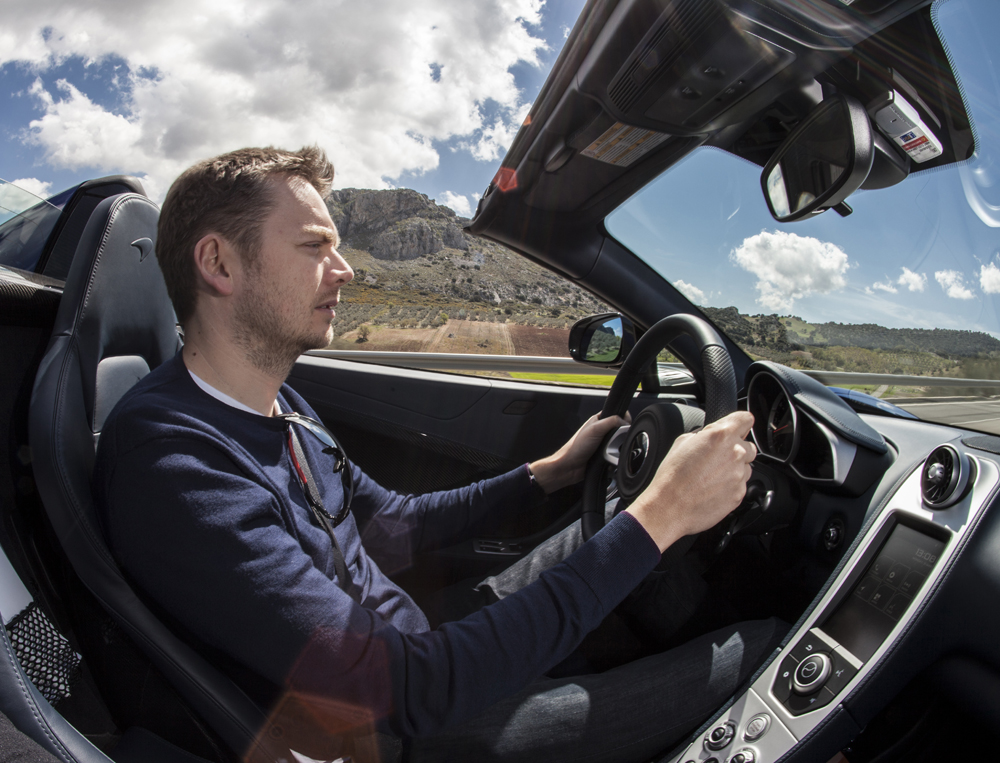 After denying that the 650S was a replacement for the 12C, McLaren confirmed on Friday that it was ceasing production of the 12C "in light of the success of [the] 650S". Some will say this is the car that McLaren could have, should have, built to begin with. Good news that the company has finally hit a sweet spot. Bad news if you're a loyal customer who has just bought a 12C.
Verdict ★★★★☆
Faster and more exciting than the 12C
McLaren 650S specifications
Price: £195,250
Release date: on sale now
Engine: 3799cc, V8, twin turbo
Power: 641bhp @ 7500rpm
Torque: 500 lb ft @ 6000rpm
Transmission: 7-speed dual clutch
Acceleration: 0-62mph: 3sec
Top speed: 207mph
Fuel: 24.2mpg
CO2: 275g/km
Tax band: M
2014 McLaren 650S rivals
Ferrari 458 Speciale, £208,000
For The way it looks, sounds and drives Against You'll want to buy a racetrack
Search for and buy a Ferrari 458 on driving.co.uk
Lamborghini Huracan, £190,000 (estimated)
For Looks great, beautiful interior Against We don't know how good it is to drive yet . . .
Search for and buy a Lamborghini on driving.co.uk