Audi TT Mk1 review (1999-2006)
Audi performance has rarely been so cheap – or so risky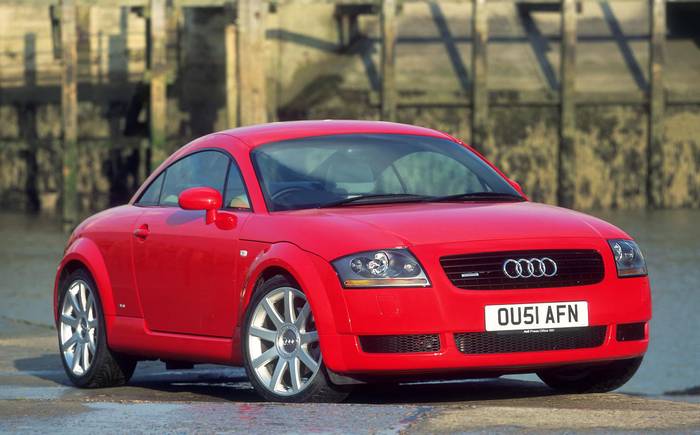 What is the Audi TT?
Until the TT came along in 1998, Audi was perceived as one of the world's most conservative car makers. Then this Bauhaus-inspired machine arrived and suddenly the Ingolstadt brand was hot property. There really was nothing else like the TT, and aside from the Peugeot RCZ, there still isn't. But the TT isn't just a pretty (or at least distinctive) face; it's a pretty good drive too, with even entry-level models providing a decent level of go.
The mainstay of the TT Mk1 range was the VW Group's brilliant 1.8T turbocharged petrol engine. Free-revving and punchy, it's a powerplant that's a joy to use and when the TT made its debut in February 1999 it was the only engine offered. Buyers could opt for 178bhp or 222bhp outputs, both engines getting quattro four-wheel drive as standard. With 0-62mph in just over six seconds available from the more powerful car, the TT is no slouch, and it handles adroitly, too.
---
Search for and buy a used Audi TT
---
Not surprisingly, Audi developed the TT further. A convertible appeared within six months and by 2003 there was a cheapskate version of this with 148bhp and front-wheel drive. A few months later we got something far fruitier: a 3.2-litre V6 with a handy 247bhp on tap. At first there was Audi's brilliant dual-clutch DSG transmission only but within a year, a six-speed manual was offered, too – either car makes a great used buy today, if you can find one that hasn't been caned.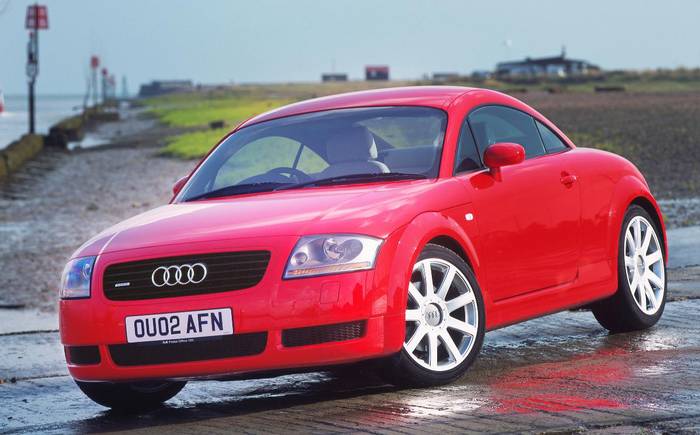 While the V6 is fast and sounds superb, collectors are homing in on the special edition quattro Sport of 2005, which weighed 49kg less than standard, while 237bhp was squeezed from its 1.8T engine. Soon after this car arrived, the regular TT225 was phased out and the TT180 got a power boost to 187bhp, so the end-of-line cars are worth seeking out. Best avoided, though, are the earliest TTs with their left-hand drive; avoid such cars unless you're on a really tight budget. Also be wary of TTs that have been chipped for silly power; expectations of reliability and 300-plus horses are too much to ask from 1.8 litres.
With its standard four-wheel drive (for most editions) and those still-sharp looks, there's not much that competes with the TT, but for the money there are still some tempting alternatives. An early Boxster drives more sweetly but at this money you can get caught out big time. The BMW Z3 and Z4 provide a nice soundtrack and – at least in the case of the latter – some driving fun, too. Or you could try the unsophisticated and unrefined Nissan 350Z. But as an all-rounder the TT is ahead of all these.
The best thing is that you don't need deep pockets to buy a TT Mk1. With the earliest examples now approaching 14 years old, the original model is ludicrously cheap. So while some of the TT's contemporaries are worth even less, they don't have the breadth of talents that the Audi does. It may be getting on now, but that first TT is still a cracker.
What to look out for when buying a used Audi TT

As the TT ages, various reliability issues are starting to come to light. Well-maintained cars will always be less troublesome, but items such as tired anti-roll bar bushes, failed thermostats and suspension springs plus snapped cam belts are becoming increasingly common; replacing the cam belt every five years is worthwhile. One of the most common issues, though – and also one of the most costly – is failure of the instrumentation. When that goes, expect a bill for several hundred quid.
There have been four recalls for the TT Mk1, the first issued early on because of the highly publicised issue of the car losing stability at high speed; the solution was to fit ESP and a rear lip spoiler. Later there were also recalls because of airbags failing to deploy, rear axle ball joints seizing and brake pipes getting damaged.
The one to buy
Audi TT quattro Sport coupé
Specifications
Engine:

1781cc, 4 cylinders

Power:

237bhp @ 5700rpm

Torque:

236 lb ft @ 2300rpm

Transmission:

6-speed auto

Acceleration:

0-62mph in 5.9sec

Top speed:

155mph

Fuel:

30.1mpg (combined)

CO2:

226g/km

Road tax band:

K

Dimensions:

L 4040mm, W 1765mm, H 1350mm
 Audi TT rivals
Honda S2000 (click here for used prices on driving.co.uk)
BMW Z4 (click here for used prices on driving.co.uk)
Porsche Boxster (click here for used prices on driving.co.uk)