How can I import an American car, or buy one in the UK?
How to have a slice of mom's apple pie on your driveway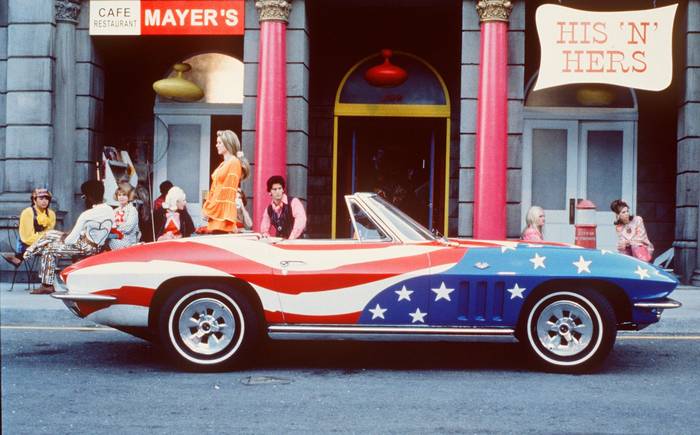 IN THE early part of the year, people in the UK get a little itch. It starts in January with the Detroit motor show and by the time the New York International Auto Show comes around (March 29 – April 7 this year) it's unbearable.
---
Search for and buy your next car on driving.co.uk
---
This year, the new Chevrolet Corvette Stingray, unveiled at Detroit, was the trigger for some mild itching. Brits looked at the model's $55,000 starting price, did a quick conversion and wondered what other car they could buy in the UK for £36,000 that could come close to offering the same level of performance, exclusivity and stand-out looks. Suckers for punishment they then turned to the Schwarzenegger of muscle cars, the $54,650 Ford Mustang Shelby GT500, and asked the same question.
As the New York show approaches, expect itching to intensify  over the track-focused Chrysler SRT Viper Time Attack and the Chevrolet Corvette Stingray convertible, accompanied by the smashing of calculators and the cursing of currency speculators. Fortunately, there are a variety of treatments.
You could buy the American car of your dreams from a US-based car dealer (in addition to the list price, you might have to pay as much as $5000 more for an in-demand car, although they do like haggling) and export it to the UK through a company such as shipmycar.co.uk.
You'll have to pay shipping and conversion costs, sundry fees, 10% duty and 20% VAT. On a Mustang Shelby GT500 these costs could amount to £14,476. That's the price of a Ford Focus but it means that all told, your new GT500 could be bought in the US, landed in the UK, taxed and made roadworthy for around £50,000, or about £5000 less than the price of a new BMW M3.
Or you might buy your American exotica nearer to home, from a UK dealer specialising in American cars. The American Car Centre in London sells new Mustang GT 5.0 V8s for around £35,000 and director Stephen Ouvaroff anticipates he'll be offering the new Corvette Stingray for around £70,000. Even allowing for the fact that, broadly speaking, you're swapping the dollar sign for sterling, his Corvette represents a huge saving over a Porsche or a Ferrari.
Thus far, our two treatments for "autoshow itch" use the saving you make converting from dollars to sterling to pay the import duties and taxes, and additional items such as Individual Vehicle Approval (IVA) required before you can drive your left-hand-drive American import on UK roads.
But there is a way of avoiding all these costs while still having a little piece of automotive Americana on your driveway. Below, we bring you a buyer's guide to the American cars, most of them right-hand drive, that we've been able to buy from UK main dealers now for years. They may not all be V8 muscle cars or extreme SUVs, but each in its own way will bring a dash of stars and stripes to your life.
Jeep Wrangler
The great, great grandson of the Willys Jeep  arrived on our shores years ago, first as a personal import and later from official Jeep dealers. The two-door model  (a four-door arrived in 2007) looks great – rugged and authentic.  The 2.8-litre diesel is the most plentiful  version on the nearly new market and indeed, is the only one offered new today.  But there are other engines including a limp-wristed 2-litre diesel, and 4, 3.8 and 3.6-litre petrols. Special editions abound.
Poor on-road manners mean many have been bought for their off-road prowess so check for damaged suspension and underbody graunches and on soft-tops, torn hoods. Also test that the transfer 'box, the unit that sends the drive to both axles, works as it should in Lo and Hi ranges.
2009 09 Wrangler 2.8 CRD Sahara 4dr auto 35,000 miles
Dealer £15,500
Private £14,500
2007 07 Wrangler 4.0 Sahara 2dr 50,000 miles
Dealer £9000
Private £7000
Read our Jeep Wrangler used car expert review here
Jeep Cherokee/Grand Cherokee
Like the Wrangler, the Cherokee was already popular with adventurous  car buyers long before the car maker officially brought the model to the UK in 1993. But when that day came, we fell over ourselves to enjoy the positively American-feeling and sounding 4-litre straight-six engine. Chunky looking but not as intimidating to drive as other 4x4s, the Cherokee was popular across the board. The larger Grand Cherokee followed in 1996, enlivened by a short-lived 5.9-litre version in 1998.
Today, later versions of the Grand live on powered by a 3-litre V6 diesel and, for lovers of excess power American-style, a 461bhp 6.4-litre V8 petrol. Fuel consumption is an issue with petrol-engined versions while rust can blight some early cars.  It's an off-roader so do the usual transmission and body checks. Beware optimistically priced later models.
2008 08 Cherokee 2.8 CRD Limited auto 25,000 miles
Dealer £10,000
Private £8000
2011 11 Grand Cherokee 3.0 CRD Limited auto 30,000 miles
Dealer £25,000
Private £22,000
Chrysler Grand Voyager
Best known for ferrying the apprentices from Surralan's boardroom to their next task, the Grand Voyager is a classy looking people carrier of doubtful dynamic ability (so the perfect vehicle for his aspiring emplyoees, then). But as a thing for seating eight people it's not bad at all. We're on the fifth generation now, launched in 2008 with 3.8 V6 petrol and 2.8 CRD diesel power. Back when, there was a short wheelbase version but the LWB is the only one now, and with an automatic gearbox.
Buy the latest you can afford; facelifted models have more spec and better seats. Creaking trim is a bit unsettling but expect it. Kick up more of a fuss over failing electrics and check the brakes have plenty of life. The GV is a heavy car to stop.
2008 57 Grand Voyager 2.8 CRD Limited auto 45,000 miles
Dealer £14,500
Private £13,000
Read our Chrysler Grand Voyager used car expert review here
Chrysler 300C
Squint and it could be a Bentley but open your eyes wide and there's no doubting the brash Yankee appeal of this big executive car (there's an estate, too). From its outsize grille to its scatter-gun interior dressed in faux leather, it's American to its boots and after all, that's what we're looking for here.
In its heyday the 300C was the first choice of execs who could stretch to something German but who didn't want to.  Since then, however, its appeal has dimmed as newer, more sophisticated cars have overtaken it.
The big C soldiers on with just one engine: a 3-litre V6 diesel, albeit one developing a generous 398lb ft torque. The car's Mercedes E-class roots bode well for future reliability but as ever, check everything works as it should and pick one that has been cherished for its distinctiveness.
2009 59 Chrysler 300C 3.0 auto 23,000 miles
Dealer £12,000
Private £10,000
Dodge Nitro
Its name alone justifies us giving this car a place in our hall of Americana. But in truth, that's about all there is to recommend the compact SUV built at the Jeep factory in Ohio (it shares its platform with the Jeep Cherokee). It was launched in 2007 but dropped just five years later in 2012. That should tell you all you need to know about the car's ride and handling, build quality and general appeal. But my, it was a bargain and if you're looking for that all-American flavour, good and bad, it's as good as any.
The UK got a choice of two engines: a 3.7-litre V6 petrol and a 2.8 CRD. Check for poor maintenance, mechanical gremlins and that it hasn't towed to excess.
2008 58 Dodge Nitro 2.8 CRD SXT 40,000 miles
Dealer £9,500
Private £8,000
Chevrolet Camaro
"The Camaro has personality in spades and that is what sets it apart from its rivals," said Vicki Butler-Henderson in her review of the Chevrolet Camaro convertible from Driving. But she also said its timid exhaust note was "like giving Mike Tyson the voice of Tweety Pie" and, being left-hand drive, "you need blind faith to join a busy road successfully." An after-market pipe would fix the sound problem and then you'd be made up with your all-American muscle car costing from £35,285 for the coupe (£40,285 for the convertible). That's BMW 330i SE money for a 6.2-litre V8 developing 426bhp and 419lb ft torque, and with the ability to despatch 0-62mph in 5.2 seconds.
Specification-wise you'll want for very little, apart from an accompanying petrol tanker:  fuel consumption  is 20mpg. Meanwhile, there are just five Chevrolet dealers selling the model in the UK, so routine servicing might be a bind. The V8 is a tried and trusted engine so instead, when you're looking one over, pay attention to panel fit and finish, trim noises and iPod/USB compatibility. Noisy half shafts have been reported by US owners.
2012 62 Chevrolet Camaro 6.2 auto 200 miles
Dealer £34,000
Private £30,000
Read our Chevy Camaro used car expert review here